The importance of wearing masks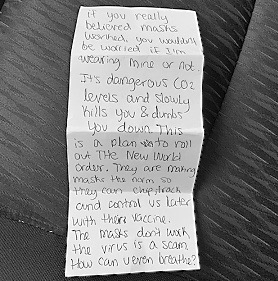 On Aug. 5, Lindsay Frankfort went to Juicewell for an acai bowl. She noticed that one of the ladies behind the counter's mask had slipped below her nose. Frankfort brought her mask malfunction to the lady's attention, and politely asked her if she could lift her mask back up.
"I figured it slipped down," the St. John's High School junior said. "Especially since she was working, it made sense that it could have slipped down."
"No thanks. I would like to breathe." The lady responded. As the lady turned and walked away, her response left Frankfort shocked.
"I always believed the best of people," Frankfort said. "It's just selfish to not wear your mask these days."
But that wasn't all. A few minutes later, the lady behind the counter returned with Frankfort's acai bowl and a note.
"I was angry," said Frankfort. "I couldn't believe someone could actually think that. It was just completely wrong."
I first learned about this incident when I saw it on social media. Frankfort shared the note on Instagram, and her mother shared it on her facebook.  I was very surprised that Frankfort's post made it into my feed. I had seen posts of people I knew going about their lives, without masks, as if the pandemic isn't happening. However, for the lady behind the counter to not only ignore Frankfort's safety, but detest it, left me shocked. I started following Frankfort's story more closely. I was curious what was going to happen, following Frankfort's instagram post.
Within four hours, the note reached the attention of the owner, Wen Kosters-Qin, of Juicewell in Meyerland. Wen, appalled by what had happened, quickly contacted Frankfort to apologize.
"When I first saw the note, I thought 'this is ridiculous,'" Kosters-Qin said. " I felt really bad she had to experience that in my store. I couldn't control what had happened, but I could control how I reacted."
Kosters-Qin let go of the employee who wrote the note. He now provides masks to all of his employees so that there would be no excuse to not wear one. He turned this into an opportunity to make sure his employees know that company service, respect, and following the law are key to the success of Juicewell, regarding hospitality and public safety.  Wen instills these values in his employees, through his policy, 'no mask, no work'.
"We wear the mask to protect our customers and employees," Kosters-Qin said. "As citizens and members of the community, we need to follow the law and just do the right thing."            
When Frankfort found out how Kosters-Qin felt about what happened in his store, she was amazed at the owner's reaction.
"I now love the business a million times more," Frankfort said. "It was impressive how quickly the owner reacted. That was great."
Even though most people believe in following public safety measures, this experience was really eye opening to Frankfort. Frankfort realized that not everyone followed the mask mandate, or even believed in respecting others' concern for public safety.
"It's just selfish," Frankfort said. "Masks are here to protect other people. Why can't people just agree on that?"
Now when Frankfort goes up to a checkout counter, her experience goes through her head. 
"I just need to be more nervous," Frankfort said.
A small piece of cloth that covers your nose and mouth when out in public causes so much controversy. Having a father who works in healthcare, Frankfort's family knows how serious the pandemic is. So Frankfort spoke up. 
"We listen to science," said Frankfort's mother, Michelle Frankfort. "I was very proud of Lindsay for calling someone out for doing something not only morally wrong, but illegal. Knowing she would make good choices, I feel comfortable with Lindsay going out and about."
I have been following all social distancing guidelines and wearing my mask for my own health and safety. After talking to Frankfort, I was able to really understand how important wearing a mask is for everyone around you. Wearing a mask is seen as a sign of respect for those you are around. Frankfort inspired me to speak up for the mask. 
"It's the simplest way to stop the spread," Frankfort said.