My favorite vegan restaurants in Houston
Lady Gaga may not have an issue with strutting along the red carpet in a dress made of raw beef, but a whopping 9.7 million Americans have an issue with wearing and eating any kind of animal products.
Following recent studies, about 8 percent of the world is vegan. That means around 79 million of earth's inhabitants have chosen to lead a plant-based lifestyle.
So what exactly is veganism? In simple terms, those who practice veganism refrain from using any and all animal-based products. Typically vegans are inclined to forgo a plant-based diet because of one of three reasons: dietary, ethical, or environmental.
 Although non-meat and dairy diets can be traced back to ancient Indian and eastern Mediterranean societies, the term 'vegan' was not coined until 1944 by a Brit named Donald Watson. Back then, veganism had a presence often associated with hippies and radical politics, but since then veganism has gone from controversial to trendy.
 Veganism is not only a growing fad, but also a diet with health benefits that help fight type 2 diabetes and declining kidney function. Vegans tend to have lower blood sugar levels, higher insulin sensitivity and up to a 50–78 percent lower risk of developing type 2 diabetes.
Whether you're interested in eating cleaner, don't want to exploit animals or simply want to try new things, great vegan restaurants in the Houston area can sometimes be hard to find. So here are my top three favorite vegan restaurants. (These restaurants are great if you are looking for vegan food that isn't just a side salad at a 'normal' restaurant.) 
Number three: Veegos
If you're looking for authentic vegan Mexican food then Veegos is the place for you. Their menu features nachos which come fully loaded with veggies, cashew cheese and sour cream along with your choice of beans, pastor or jackfruit. You also can't go wrong with one of their traditional bowls which include Mexican rice, pinto or refried beans, veggies and your choice of protein. I highly recommend the jackfruit as a protein choice. They also offer vegan horchata (yes it is definitely a real thing!)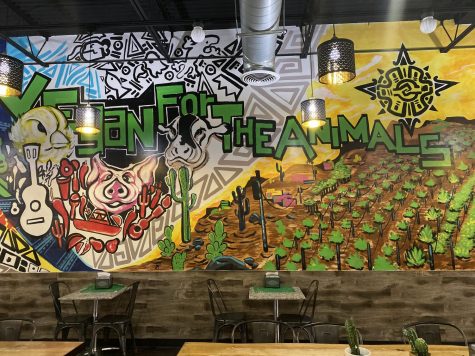 Number Two: Pine Forest Garden
If you are craving authentic Asian food, then Pine Forest Garden is the place to be. They offer a full-vegan buffet as well as several menu options. An amazing plus of this restaurant is that their vegan meat options taste like the actual meat itself, rather than a substitute like tofu. Their veggie sesame chicken is my absolute favorite dish on their menu. It is soy-based with a sticky, sweet sauce topped with sesame seeds. Another must-try on their menu, is their sesame cake. It is basically what it sounds like, fluffy sesame bread that comes in shapes resembling slices of cake.
Number one: Verdine 
 Verdine is the perfect choice if you are new to the vegan diet and really craving some comfort food. Not only will you be impressed with their creative menu, but also with their mission to partner with an organization each month that aligns with their plant-based goals. They offer cheesy burgers with a beyond meat burger patty as well as culturally diverse dishes such as their Forbidden Pad Thai. I would highly recommend their hot 'chicken' sandwich if you are looking for a heavy, spicy meal. The sandwich's main component is local and organic buffalo tempeh 'chicken' along with ranch, lettuce and pickles. Before you go, don't forget to save room for a slice of one of their many delicious cake flavors such as their carrot cake topped with edible flower petals.