'I really enjoyed Disney. Pandemic or not, it's one of my favorite places to be.'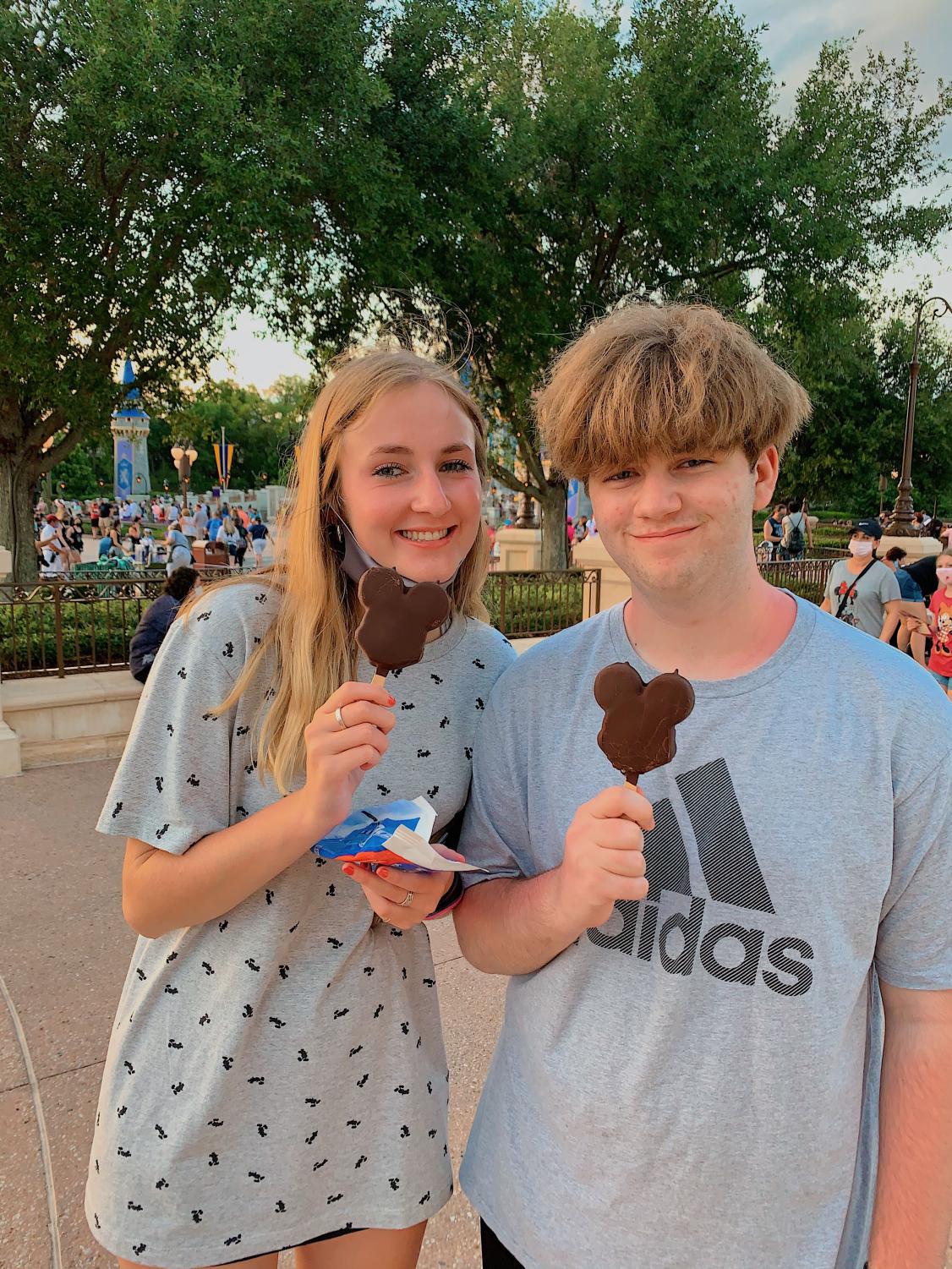 A maskless, crowded paradise. 
That's what Disney was like for me in 2019.
Last time I went to Disney World before the pandemic, if anyone would have told me what it would be like the next time I went, I wouldn't believe them. 
This year, 2021, I finally returned to Disney World after my entire family and I were vaccinated. All except for my brother, whose 16th birthday we were celebrating on our trip. He wasn't able to be vaccinated before we went in April, so we were a little worried about him. However, we felt pretty safe the whole trip. 
We spent the first day of our five-day trip traveling to Florida and then going to Disney Springs. In the airport, everyone was masked up and it wasn't crowded either which made us feel better. 
At Disney Springs, it was extremely crowded. It was not what we expected. The the workers helped with social distancing. There were lines to get into all the stores because they were not filled to max capacity. However when we went inside, it definitely felt full. The restaurants as well did not seem to be socially distanced, but a few tables were closed off.
I personally felt safe because I'm vaccinated. However, for people that aren't vaccinated, if I were them I'd be a little worried. Mostly in restaurants and stores, outside in smaller, more spread out crowds I would still feel okay. Most people were wearing masks, but some people had some tantrums about it. 
On our first day at a park, we went to Magic Kingdom. A man refused to wear his mask. A worker urged him to put it on but he wouldn't. He said he couldn't breathe and was going to have a panic attack. His wife was visibly embarrassed and if I was her, I would be too. If I can play lacrosse games in a mask, I know this middle-aged man can walk around in one. Plus, you can pull yourself aside to a private area, go in the bathroom or drink something and take your mask off. It's not that hard to wear when you're walking around.
Some people are babies. Just putting it plain and simple. If you go to Disney World nowadays, prepare to deal with people that won't abide by simple rules, and be prepared to abide by said rules.
We went to one other Disney-affiliated park, Hollywood Studios. It was extremely crowded, but in both parks, Magic Kingdom and Hollywood Studios, rides were socially distanced as well as the queue line. Workers tried to implement social distancing, but it didn't work most of the time. People just stood as close as they would in a normal line.
To be honest, I got annoyed with the social distancing in the lines. It made the lines move extremely slow and people would stand much farther apart than they really needed to. I'm glad we were socially distancing, but I was still annoyed. I'm impatient, but I was in Disney World so I don't know what I was expecting. 
Workers were all around both parks telling all visitors to keep their masks on. I took a sip of my drink and less than a second after a woman told me to put my mask on. They were on us like white on rice. It felt a little extra at times, but it's necessary. Masks were also never allowed to be off on rides and ride cars were socially distanced as well. 
My family and I also went to Universal Studios/Islands of Adventure. We stayed at a hotel on property called Hard Rock Hotel, which didn't offer room service because of the pandemic. I thought that was a good implementation. 
At these parks, the same rules applied. Masks at all times, except on water rides which I thought were nice, didn't want to get my mask soaked plus they typically didn't put us with other parties on the water rides, and social distance as much as possible. 
There were designated sections for us to be able to take our masks off. There were not as many workers yelling at us to keep our masks on at these parks. The crowds were insane, but honestly didn't really notice many people not wearing masks. 
On the Hogwarts train going through those parks, the different cabins on the train only held one party. Restaurants were at lower capacity like at the Disney parks as well.
I think generally, the COVID precautions nowadays at Disney are pretty solid. There's always a few people that won't abide by the rules. If you can't follow the rules, then why are you here?
The parks maybe could have sold less tickets to help with crowd control? They also definitely could have enforced social distancing in lines more, even though I would've hated that. 
I really enjoyed Disney, pandemic or not, it's one of my favorite places to be. 
Recently, actually right after I came back, Disney announced that guests don't have to wear masks outdoors anymore. Right before I came, they announced that guests can take pictures without masks. They are continuing to lessen precautions on COVID, can't tell if that's a good or a bad thing.
I bet that guy that was going to "have a panic attack" from his mask is really mad that he went and just missed that new announcement. 
Leave a Comment