25 trendy gift ideas under $50
The holidays are near, and the smell of gingerbread and vanilla fills the air. Millions of families begin to set up their Christmas trees and ornaments. However, one thing is still missing: the presents.
Here are 25 gift ideas under $50.
5-Minute Journal – $34
What other way to wake up and express gratitude to get rid of some stress? 5-minute journals are a great way to let off some steam and write for a short amount of time.
Phone Case – $16
Phone cases are essential for any type of phone. These phone cases from Etsy come in 50+ different aesthetic patterns.
Claw Clips – $15
Only one of the trendiest hair accessories of 2021, claw clips are great for creating a hairstyle without much effort. They can come in a variety of shapes, colors and packs.
Amazon Gift Card – Custom amount
Stuck on what to get your friends/family members? An Amazon gift card is a great gift idea for anyone and they come in custom amounts.
Bubble Candle – $15
Mainly used for the aesthetic, bubble candles are a great gift for trendy folks. Use it as a display or as a candle.
Personalized Stickers – $1.99-11.99
A thoughtful gift to give to anyone are these amazing personalized stickers. Any photos can be made into these cute little stickers.
Throw Blanket– $33
Most likely on everyone's wish lists, throw blankets are a great cozy gift to give during the cold season. They also make a bed or couch look 10 times more luxurious.
Spa Set – $25.95
This set is great for moms, grandmas or anyone else. Treat them with this amazing gift set that includes shower gel, body lotion, body butter and more.
LED Shower Head – $30
Light up the shower with this cool LED shower head. Add a little fun and interest to someone's shower.
Fake plants – $27
If there's that one person that always says they can't have a plant because they can't take care of it, why not get them a fake one? Fake plants look amazing in anyone's room, and there's no need to even water them.
Mini Photo Printer – $33
Mini photo printers are a great way to print out memories from a computer or a phone. This mini photo printer is Bluetooth compatible and even prints out as a sticker.
Personalized Tumbler – $16.49+
An amazing everyday gift would be this personalized tumbler. It can be used for coffee, boba tea, smoothies and much more.
Hoodie – $14.97
This basic essential is a great gift for anyone's wardrobe. Hoodies are worn all the time by everyone.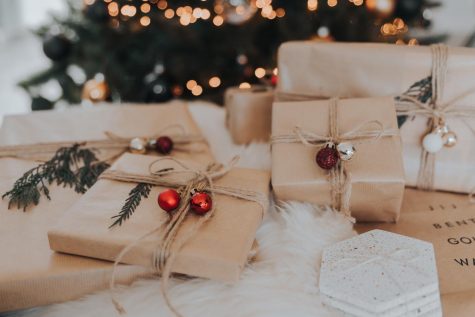 Echo Dot (4th Gen) – $35
An essential to anyone's home, the echo dot is great for various commands. This is a thoughtful gift for the whole family.
Pandora Wishbone Ring – $45
This simple yet extravagant ring is a statement maker. Put a shine into anyone's life with this gift.
Flower Pillow – $16.20-33.76
This cute pillow can be used for either decor or an actual pillow. This pillow will make anyone's room look cool and aesthetic.
Charger – $11
What better gift than one of the most essential items to most people's lives? A new charger would make anyone's day.
Squishmallow – $14
Only the cutest stuffed animal ever, squishmallows are a great gift for all ages. It is soft and a great addition to anyone's room.
Bath Bomb Gift Set – $26.80
A lovely bath bomb gift set is a great gift for anyone. They can come in a variety of colors and sizes.
Personalized Ornaments – $29.97-47.47
Personalized ornaments are creative and sentimental gifts that can be passed down for generations. Everyone loves getting gifts that mean a lot to them.
Revlon One-Step Hair Dryer And Volumizer – $34.88
This amazing hair dryer volumizes and dries hair all in one. This is a great gift for anyone who likes styling their hair.
Wireless Keyboard – $42.29
For any iPad or phone users, a wireless keyboard is a great gift option. It can be used for easier typing and an aesthetic setup.
Glossier Lip Gloss – $14
One of the most trendiest lip glosses, Glossier Lip Gloss is a great affordable lip gloss option. Lip gloss is an essential in anyone's makeup collection.
Blue Light Glasses – $28
Blue light glasses are a great gift when it comes to wanting to block out the blue light from electronic devices.
Saying 'I love you' – $0
A simple 'I love you' can make anyone's Christmas 100 times better, and it's a great excuse to put down electronic devices. This free and simple gift is the only gift anyone needs from their loved ones.
Leave a Comment