Peanut Butter Patties are greater than Caramel deLites
11-year Girl Scout ranks her top favorite Girl Scout Cookies
After knocking on hundreds of doors and manning dozens of booths, I've never failed to hear the question, "Which cookies should I buy?" So here I am to answer this question once and for all.
In my 11 years of selling Girl Scout cookies, Caramel deLites and Thin Mints have been the two best-sellers. Compared to most chocolate cookies, they're unique and can't be found in a general grocery store. However, my $5 would be better spent on Peanut Butter Patties, the true queen of cookies.
As the perfect combination of chocolate, peanut butter and cookie, Peanut Butter Patties are a delectable dessert that's sure to make your day. The creamy peanut butter offers a perfect contrast to the crunchy cookie underneath while the chocolate fudgy coating is like a cherry on top.
For Reese's Peanut Butter Cups lovers, these cookies taste just like Reese's with the added bonus of a cookie on the bottom. In addition, Peanut Butter Patties are the perfect snacks for picnics, a sneaky snack in fourth period or for late night movie watching. Every bite of this cookie is like a hearty hug.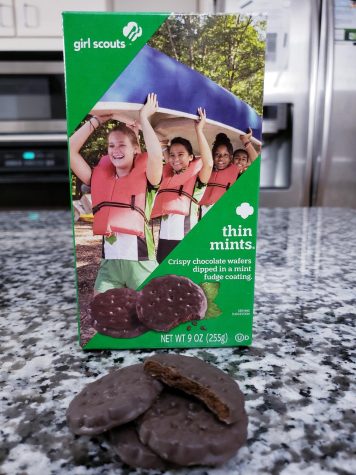 The runner-up Girl Scout cookies are Thin Mints. Throughout elementary school, the cookies' mint chocolate coating and bite-sized quality made it my favorite. However, they moved down to second place once Peanut Butter Patties entered my life. The large number of cookies per package and refreshing taste of Thin Mints keep me coming back for more every year though.
First and foremost, a box of Thin Mints has 32 cookies, double the amount of cookies in all the other packages, making Thin Mints the ideal cookies to binge while watching TV. With $5, a box of Thin Mints yields the greatest number of cookies, second only to Shortbreads with 40 cookies per box.
When I eat Thin Mints, the cookies' frosty flavor keeps me awake and energized. The initial minty scent that hits when I open a bag of Thin Mints is a breath of fresh air, proof of a tasty cookie. The chocolate coating around the cookies creates a sweet minty aftertaste, leaving my breath smelling better than before.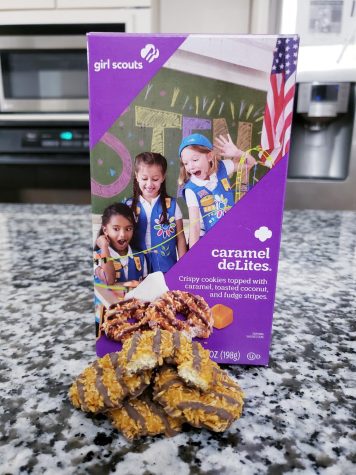 Now, on to the fan favorite, Caramel deLites. These cookies are one of my favorites as well, but not my top for a few reasons. These cookies are a bit overrated for me. Sure, they're sweet, they have chocolate and they're visually appealing with an aesthetic drizzle. Yet, the hype generated around Caramel deLites creates an unrealistic expectation for the cookie, making reality a harder hit.
The inconsistency between the cookies' description and the cookies themselves knock them down the ranks. Caramel deLites are a bit too soft to be what I consider a satisfying cookie. I also can't taste any rich caramel that the cookies are supposedly dressed in, despite eating a whole box.
However, Caramel deLites have strengths of their own, such as their visual presentation. The rustic vibe created by the chocolate drizzle and earth colored tones, remind me of the middle school days I spent snacking on these cookies while doing homework at my friend's house. Also, as someone who doesn't usually like coconut, these cookies have tastefully incorporated the coconut flavor.
Finally, Adventurefuls, the new cookies from the 2022 Girl Scout cookie season. With many positive reviews, these cookies certainly aren't bad. After munching on a box of them myself, I've warmed up to these cookies, though I don't see them rising in my rank of favorites any time soon.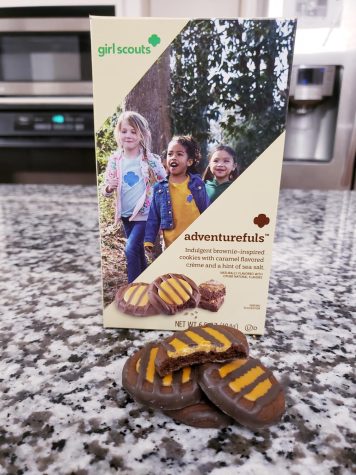 My main issue with Adventurefuls is how hard the cookies are. Since they were marketed as "indulgent brownie-inspired cookies," I completely expected a soft, chewy cookie. In reality, the cookies are hard and brittle. While crunchy cookies aren't bad, I was disappointed with the gaping difference between the cookies' description and actual taste.
I will admit the taste of the cookies are pretty close to that of a brownie. The fudge drizzle and bottom layer of chocolate give the cookies brownie points. I also enjoy the golden, orange caramel on top that provides a pop of color that compliments the chocolate cookies.
With 12 different types of Girl Scout cookies out there, it can take a while to try them all and pick your favorites. Especially as the end of the Girl Scout cookie season approaches, it can feel more stressful to choose which cookies to buy.
Honestly, each type of cookie is worth trying for yourself. All the cookies are loaded with unique flavors ranging from classic peanut butter and chocolate to minty fudge to coconut caramel. But if you're down to $5, seriously, place an order for a box of Peanut Butter Patties and I promise you'll never regret it.
View Comments(1)