Why camping is the perfect escape from a screen-filled world
Camping is like stepping into a vibrant and wild world, where every sense is heightened. The rustle of leaves underfoot, the smell of the crisp pine air and the sight of a star-filled sky are just the beginning. It's not just about sleeping in a tent, but navigating through dense forests, discovering hidden lakes and watching the morning mist roll off the hills. You have to be alert to the sounds of wild animals in the night, and the rush of adrenaline as a bear crosses your path. Your heart races as you feel the thrill of exploring the unknown, knowing that the unexpected is always around the corner. Even as you deal with challenges like a canoe tipping over or ensuring that you have enough food, the sheer beauty of the scenery and the stillness of the water can leave you breathless. Despite the obstacles, camping has the power to be the most enchanting and unforgettable experience of your life.
I remember picking up my best friend Tallie VanMoorlehem-Lenz for our first-ever camping trip. It was the dead of winter and we planned on going camping in a yurt in northern Wisconsin.
It was one of my fondest camping trips from the Porcupine Mountains National Park. I've been to a majority of the United States state parks to camp, and here's my list of the best ones I've found so far.
Porcupine Mountains (northern Wisconsin):
This was the first camping trip I had with Tallie. We drove there and it took about three hours. We had to hike a mountain with all of our bags on a sled just to get to the campsite. The trails are covered in looming pine trees that are covered in snow. The snow was somewhat packed down making it easier to walk on it. I remember walking in the same spots my mom had walked to stop snow from getting in my shoes. The only movement I saw was from the breeze moving the pines of the trees and the occasional cardinal and squirrel. It was like I was staring at a photo. The site overlooked Lake Superior and we would eat dinner outside in our sleeping bags watching the frozen lake. Inside the yurt, it was very home-like, the walls were tall and there was a wood furnace inside. My mom taught us how to cribbage and before sleeping, we laughed around the furnace to keep warm. On the way back home, we sat on top of our belongings and sled down the mountain to get back to the car. This campsite was the foundation for my love of camping and it set up a yearly tradition of going camping for my mom and me. If you choose to venture to this hidden gem nestled in the mountains of Wisconsin, prepare to be captivated by the stunning and unspoiled beauty that surrounds you. The seclusion of the location ensures a peaceful and uninterrupted experience, allowing you to fully immerse yourself in the beauty of the surroundings and appreciate the unspoiled splendor of this hidden corner of the world. On the trip, we went hiking and found sledding hills. Something I wish I would've known before camping at this site is that while it offers a raw, unspoiled wilderness experience, it also means there are no established trails to follow. You'll need to rely on your instincts and sense of direction to explore the area. However, don't let this deter you, as the lack of trails also means that you have the opportunity to carve out your own path through the untouched terrain.
Boundary Waters (Minnesota/Canada):
I have gone to the Boundary Waters about four times – my first time was when I was 3 years old. I've had very different experiences each time I've visited. It's a super unique adventure due to having to canoe or portage everywhere you go. The water is completely clear and you encounter a melting pot of wildlife. One time, my cousin Bella found a snapping turtle and called it her pet for the rest of the trip. "It's so isolated that the stars are clearly visible and beautiful at night." If you go here, expect to almost never see another person, and be prepared to find plants and animals you never thought you would encounter. It's perfect for family trips and has been a bonding experience for my family for four to five years. Every time that I went here, my family drove. The parking area is very safe if you park at one of the trailheads. My family and I never found any problems.
Hiking the Appalachian Trail (Georgia):
To get to this trail, we flew to Georgia and rented a car to get to the trailhead. My Mom, Dad, uncle, and aunts and I hiked all 80 miles of the Appalachian Trail through Georgia. The night before we set out for our voyage, we ate pizza in Atlanta to get a last taste of civilization before the hike. On our way up the mountain all the way to the start of the trailhead, we had to cut out a gap in a fallen tree trunk that was laid out in the middle of the road. Once we started hiking, my aunt Ella would say "Where's the water coming from?!" anytime we saw a stream. It was an ongoing joke for the entire trip. After we finished hiking and we emerged from the other side of the state, we got someone to pick us up and our first stop on our way back to Atlanta was the dairy queen. Dairy Queen has never been so good in my life. If you come here, you will be constantly walking up and down the Appalachian mountains and you'll have to bring a water filter to be able to clean the water that comes from the streams. There were constant views over the mountains and it was by far the best experience I've ever had. It was challenging but it paid off. It's one of the few places where you'll never see the same thing twice.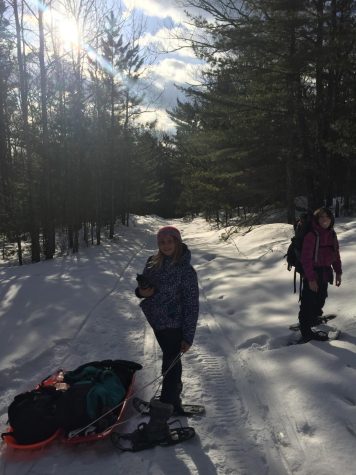 Cape Neddick Oceanside Campground (Maine):
I was very young when we came here. My mom was going to run a race in New Hampshire and we stopped here on our way. It was my first long road trip along the west coast. Once we got there, we immediately stopped at a seafood restaurant. My mom ordered a lobster and my dad distinctly remembers me shaking the lobster at her since it made my mom uncomfortable. Another reason this campsite is so special is that it's oceanside. This was the first time I had ever seen the ocean and it was gorgeous. The campsite has looming pine trees everywhere. If you're new to camping, I would highly recommend this campsite.
Cuyuna, True North Base Camp (Minnesota):
I went here for one of my last birthdays in Minnesota. The campsite is close to a tiny town that has amazing gift stores, coffee shops and bike stores. The trails at True North are amazing and we went winter mountain biking on them. If you choose to do this, just know that falling doesn't hurt if you fall in the snow!! The cabin was very small but it overlooked a small frozen lake that's part of the Iron range. We had creme brulee for my birthday dessert. I wouldn't trade this experience for anything.
Afton State Park (Minnesota):
The moment you park your car, you're approached by a very long and steep hill. It's a long and tiring hike to get to the top. You do stay in a cabin but since you have to hike up the hill, pack lighter than normal or be prepared to have sore legs tomorrow. This campsite is unique since you do stay in a cabin but there are many activities you can do at the site. My family and I primarily went geocaching on their paved trails but you can go paddle boarding, fishing, biking, etc. Before we got there, I wish I would've known that you have to see your own firewood to have a campfire. My favorite memory at this park was when we woke up the next morning and a raccoon ate my dog's food so we made him a plate of scrambled eggs. We joke to this day that that was the best meal he's ever eaten.
Lamb's Resort (northern Minnesota):
Without a doubt, the most special and cherished place that I've ever had the privilege of visiting is this hidden gem tucked away on the shores of Lake Superior. My mother and I would make it a yearly tradition to embark on a "girls' weekend" adventure to this idyllic campground, and the memories we made there will stay with me forever. The unique aspect of this location lies in the campsites themselves, which are situated directly on the serene and tranquil waters of Lake Superior. From the comfort of your tent, you can hear the gentle lull of the waves washing against the shoreline. The nearby creeks and the Superior Hiking Trail, offer endless opportunities for adventure and discovery, with secret beaches and hidden coves waiting to be uncovered. The memories of my time here with my mother are some of my most cherished, from exploring Onion Creek to skipping stones on the calm surface of the lake, and even having the thrill of cliff jumping on the Superior Hiking Trail. As a bonus, if you're heading back down towards the Twin Cities, I highly recommend stopping at Duluth Grill and Betty's Pies, two iconic restaurants that offer some of the most delicious and satisfying meals you'll ever have.
If you do try it out, I greatly encourage you to bring friends and family for an experience that will last you a lifetime.
View Comments (4)