Top five things for dancers to do on a cruise
Frantically double-checking for boarding passes and passports, the Belles prepared to board a four-day Carnival Cruise to Cozumel as a team. Thirty-four Belles woke up on Thursday, Mar. 9, with their packed luggage, ready for a trip planned to perfection (fundraising really paid off). The team boarded a charter bus together and watched Barbie Mermaidia as they drove to the Galveston Cruise dock. After all the security checks and final safety procedures, the Carnival Fun began.
The Belles could roam the boat with a buddy to do many activities- from a ropes course to partying at midnight in the O2 teens club. From our experience with going on a cruise as a team, here are five activities we recommend other dance teams to participate in if they take a trip of a lifetime with each other.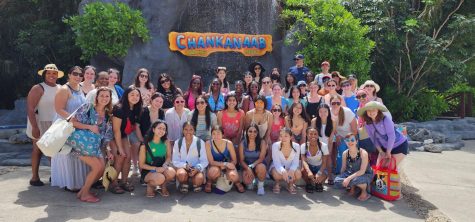 5. Swim and go to the fitness center:
Although there is an age limit for the gym, the fitness center on Deck 12 is a unique alternative for working out. There is equipment to do cardio and body-weighted lateral pull-downs, leg presses and chest presses. The Belles found themselves exercising on the equipment and even doing pull-ups and stationary biking with heels on. There are three pools on Deck 10 that are almost always crowded, so we suggest claiming the beach chairs early to enjoy a tan and a cold splash in the water. Outdoor activities on the top deck also include hot tubs, jacuzzis, tide pools, slides, a rope course, ping pong, mini golf and basketball. The cruise offers a limitless number of activities so be sure to take advantage of trying new things with a team. You could even have competitions with each other.
4. Learn choreography, watch the shows and participate:
Like the saying "work hard, play hard," the team trip can incorporate a fun, dance-related activity into the itinerary. On board, Carnival has many shows to watch while at sea, some being dance-based. The Belles reached out to some of these performers and organized a dance class for the team to participate in onboard. During this time, the team got to learn a dance that was performed that night by the Carnival dancers. The dance was a hip-hop style dance to the song "Footloose." It was a good way to make sure our skills didn't get rusty throughout the relaxing vacation and made it easier to get back into dance after a long spring break.
3. Go to Club O2 and top deck to show off dance moves:
Every cruise line has a teens club for kids on board to meet other people their age and play games, dance and talk with each other. The Belles took over the club to show off their skills with Just Dance and party-style dance circles. They also sang and danced at the karaoke bar, and danced on the top deck for the "sail-away" party. Some of these dances at the "sail-away" party included classic line dances like the "Cha Cha Slide" and the "Wobble." The girls got to enjoy carefree dancing, as opposed to their usual uniform movement.
2. Bond with teammates while eating the unlimited food: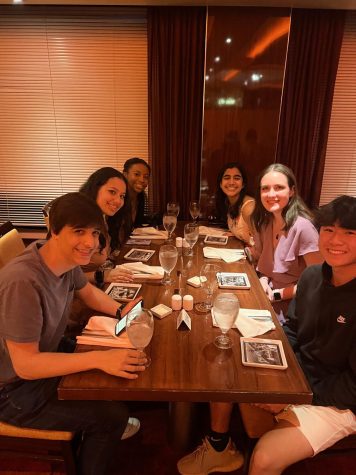 At almost any point in the trip, at least one Belle could be found at the 24-hour soft serve. The team enjoyed dining together throughout the entire trip and made better connections with one another. The team had dining experiences from free brunch at the Blush restaurant to free Blush dinner at night. These dinners had three courses, starting with an appetizer of your choice and ending with the dessert of your choice. Throughout these dinners, the cruise had a "showtime," where the team stood up and danced to music being played.
1. HAVE FUN!
Enjoy your break with your team and build stronger friendships with each other. Celebrate all the accomplishments of goals and competition. Prepare for dreadful morning practices. Be thankful for the time spent with each other. And obviously, just have fun.
View Comments (4)