Essentials to extravagances: A guide for seniors to personalize their new abode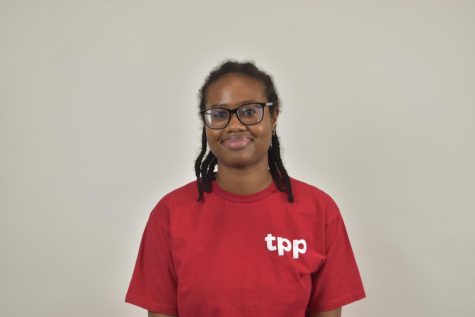 More stories from Malaika Suleman
As senioritis hits the fan, all the upperclassmen want to do is skip ahead to the first chapter of their adult lives.
An endorphin overload of what's to come, meddled by the apathy of sitting through another lecture class, is dreadful. So as you seniors dwell on what the future of your academia holds, in the meantime, you can visualize college life a little more transparently by referring to this dorm checklist of items that can transform your fresh start post-high school.
Handheld Shower Caddy with Suction Cups (Communal Bathrooms)
Your entire shower routine lies in your hands, but you can now forget struggling to hug soap, lotion, deodorant and scrubbers in one struggling embrace. This bucket is divided into two, four or more parts (depending on the supplier and design) where college students can organize their shampoo and conditioner bottles in one section, and body care in the rest. Suction cups stick to the tile shower walls, so balancing your caddy onto a shelf or settling for less by placing it on the ground, doesn't have to be plan A or B. Plus, the caddy doesn't have shower flip-flops of its own.
Dish Drying Mat
Place this absorbent base under wet shower caddies after showers to prevent mold overgrowth. If you have a kitchen, you can place one under your dish rack to catch dripping water.
Mattress Cover
Mattresses are expensive and spills happen. Without a kitchen table a few meters in reach for some roommates, eating in bed while doing homework or binge-watching may be your go-to option. The mattress cover acts as a lifesaving defense. Easily applicable and removable from the mattress, it imitates a bed sheet that can be tossed into a washer or dryer, unlike a hefty mattress. The additional layer not only protects the mattress from stains but minimizes bed bug influxes. Mattress covers are the cheapest way to extend the warranty of your mattress.
Foldable Rolling Laundry Basket
Laundry on wheels makes the entire process a whole lot more practical. Instead of hauling heavy loads up and down flights of stairs in your residence hall, wheeling your clothes from point A to point B requires low physical effort, and an extra feature — foldable — allows you to stash your laundry vehicle in your closet.
Arm & Hammer Hanging Moisture & Odor Eliminator
This humidity trapper sucks in all of the moisture circulating in your dorm. If you continuously use an essential oil diffuser, pent-up moisture and musty smells will be eliminated. Supplied in packs of two, each measure to 16 ounces and offer a fresh environment for 60 days. Hang it wherever there is a moisture hotspot and watch your environment freshen as the liquid accumulates in the plastic pouches.
Outlet Tower
This energy source allows for all devices to be charged in close proximity. If your friend group is cramming to get a project done, they can all charge their devices and delegate in the same space. If your friends are on a late assignment marathon, they can gather around for motivation, and a dead computer can't be an excuse. The struggle of searching for square outlets with just two chargers to be used simultaneously is forgotten.
Mini Fridge with Freezer Section
Picky eater or not, meal plan frequenter or not, keeping a medley of refrigerated goods ensures you have your favorite foods to keep you energized throughout the day. Non-refrigerated snacks can be kept in fabric storage boxes. You can store milk, yogurt, beverages and other nutritious items. The freezer can save ice cream and frozen fruit for smoothies.
Portable Fan
Whether you are dorming in a college or university that harbors warmer or cooler temperatures, the effects of global warming or heat, in general, can be felt by all. Fans in dorms aren't common in college, but air conditioning is. As ACs aren't promised in every college or university, a pluggable fan is a smart investment. With different modes of low, medium or high spinning momentums, you can tailor your fan experience without negotiating the settings — an inverse experience of regulating a thermostat at home.
Backrest Pillow
Perfect for dorms with beds without headboards, backrest pillows allow you to sit up against your wall and eat and/or do homework, minus the back pain.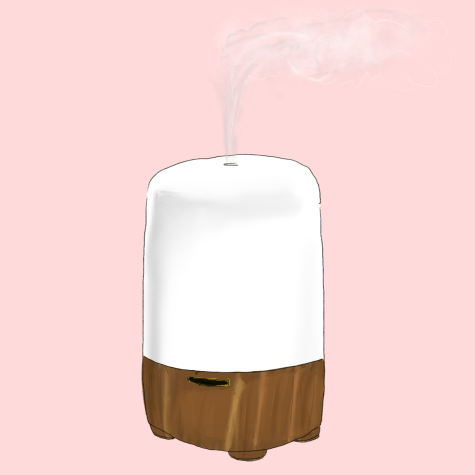 Essential Oil Diffuser
Another cleansing tool to purify your dorm's air and a source of zen, this dispensing machine floods your room with a natural essence. Essential oils provide physical and mental benefits to foster ease. Inhaling essential oils promotes relaxation and stands as a natural sleeping aid, minus the swallowing and foreboding feeling of choking. Setting a tranquil mood for your new space is a haven for studying where you can release accumulated stress. Extra positive side effects detail improvement of mental clarity and focus and boosted mood.
Broom and Dustpan Set
A cheaper alternative to stick vacuums is your trusty broom and dustpan duo. Never needing to
worry about your cord not being long enough for your vacuum to reach all corners of your dorm, a broom is a quieter and energy-sustainable replacement to capture all crumbs and dust.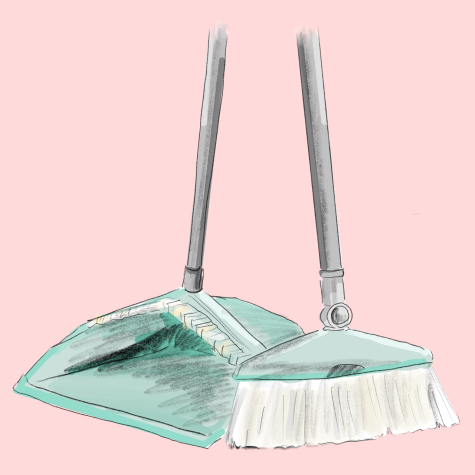 Brita Water Filter
By investing in a water filter, you prioritize your health by reducing the lead, chlorine, benzene, asbestos and additional contaminants that can hinder your body.
OTC Medicine
Staying on top of your studies, keeping your dorm clean, doing laundry and eating adequately during the day can turn into a tiresome routine in a snap. Without your parents to reason your time or remind you of your responsibilities, firsthand adulting can take a toll on your physical and mental health. Whether you overstudy or are allergy or headache prone, a small assortment of over-the-counter medications is handy to overcome physical or mental strains.
Note: OTC meds are to be used irregularly, not heavily relied on and abused.
Clothes Hanger Rack
Depending on the dorm style you opt for, drawer and closet capacity generally offers limited pile room. An archaic alternative to overcome this hurdle is a demand for yoga pants. Yoga pants are a common garment of choice for college girls as their sheer width allows for more generous cramming opportunities. A more in-vogue alternative to creating space for clothes is a hanger rack which optimizes for abundant clothes to be stored. Like a closet without walls, you can dedicate your rack for everyday attire or allot it for hanging corporate clothes and internship- savvy attire while avoiding wrinkles.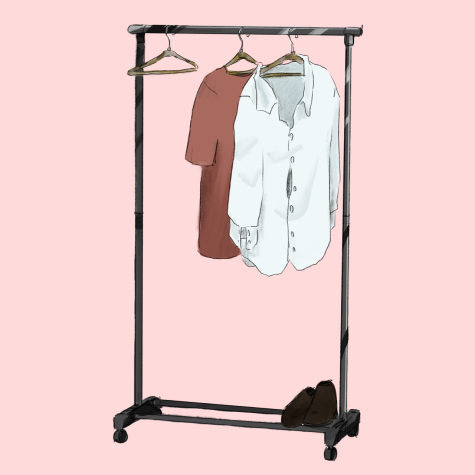 Strapless Towel
This design prevents squeezing your arms tight to your sides so your towel doesn't slide down. With an elastic band, the towel fits like a long skirt, but the "waistband" can be situated above your chest. Bathrobes are an alternative, but they can feel claustrophobic and fill up space in the closet or drawers. The towel doesn't wrap tightly around you, which allows for smoother lotion application on moist skin, as opposed to completely dried skin.
Fabric Drawer Tower
Keeps extra clutter from crowding bed, floor or bathroom space.
Vent Wrap Air Freshener
Instead of continually spraying Febreeze to mask odors, simply attaching an air freshener to vents is the easiest to let your favorite aroma perfume your space instead of inhaling droplets of heavily-fragranced mist. With the scent equally dispersing throughout the room, the pleasant odor permeates all areas. This overcomes the awkward spraying of one side of the room by one roommate with their scented spray and the other without.
Bunk Caddy
A nice bed attachment, especially for upper bunkers who don't want to ladder up and down to get their things, can depend on a caddy with pockets to store bedside items like a book, phone and more.
Floor-Length Mirror
Not exclusive to fashion school students, a lengthened mirror can be tilted on anyone's wall. Once you assemble your outfit, a quick (or studied) glance in your full-length body mirror can help you pull all elements together so you can efficiently determine if you're satisfied with your OOTD. No more looking at one half of your outfit in the bathroom mirror and tiptoeing to see one-fourth more or standing on a stool to see the rest.
Bed Curtains
Bedrooms are a place to decompress in solitary peace, but living in a shared space elevates privacy to a luxury. To generate a personal bubble, welcome to bed curtains. Leaning toward the right of the essential-extravagant meter, this installation mimics a barrier of privacy like a door or walls. But if isolation is a key necessity for you to maintain sanity, investing in bed curtains may not seem so profligate.
Command Hooks
These hooks leave your walls as smooth as before. With an adhesive and stable hold, Command Hooks allow for a damage-free stick on your walks so you can hang your everyday coat, kitchen utensils and more. And removing it is just as simple.
Letter Board
An outlet for non-digital messages, you can stick inspirational messages or affirmations to motivate yourself for the days ahead. You can also create notes for your roommate(s) to kindly remind them to clean their side of the space or wash their dishes. This mode of communication can't be disregarded when you place it near the door or any frequented area(s).
Plegium SMART Pepper Spray 5-in-1
This modern pepper spray model is packed with state-of-the-art settings. When the handler pushes the button, all parts activate. The pepper sprays up to 10 feet in length with red marking disarming and marking the assailant. A bright LED strobe light disorients the attacker and a siren sounds to alert passersby. When the Plegium pepper spray is activated, texts with a GPS location and an automatic phone call ping emergency contacts inputted by the owner. This is less of a dorm recommendation and more of a safety hack but still useful to share. Research the crime rate neighboring your university. You want to make sure you can return to your dorm in good health.
Buc-ee's Folding Table
This makeshift table with drink cutouts can seat four. Like a dinner table, this is a perfect opportunity for strangers to acclimate to family. Family dinner isn't reasonable every night, especially with unaligned majors and schedules, but when you're free in the evening, catching up on personal and academic lives feels like a family dinner back at home.
View Comments(1)