When Russia invaded Ukraine on Feb. 24, 2022, the news wrote about countless Ukrainians seeking refuge, but no one asked about the Russians. Why?
Because what sense would it make to interview the enemy?
Are Russian people really that evil?
No. They aren't.
Story continues below advertisement
My parents were both born in the USSR, and they aren't evil. I can confirm that my parents feed me every day, that my mom isn't a drunk person who wrestles bears all day and that I am not suffering (now, obviously, my mom doesn't represent every Russian citizen). People have had this same misconception about Soviet citizens since the 1940s, but in reality, those citizens were just trying to survive the next winter.
With the increased prejudice toward Russians following the invasion, how did other Russian people feel? Were they ashamed like my family was when someone asked about my parents' accent and where they were from? My parents once talked about how cool being Russian was, but now they barely mention it. It's like they aren't proud of our heritage anymore. Of course, the war is horrible: thousands of Ukrainian children have lost their parents.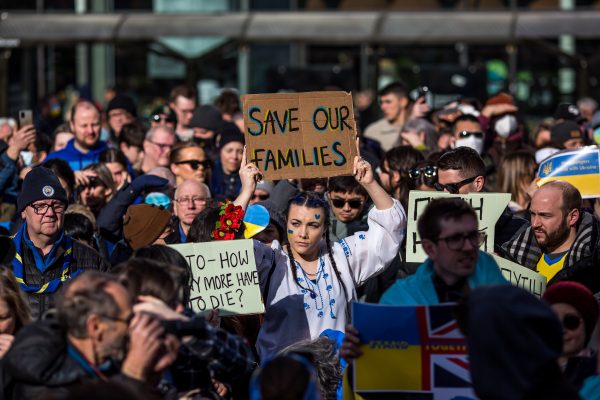 But what about the Russian children? The thousands of children that lost their parents because the Russian government sent their parents away to fight for a war they didn't ask for?
Russian sophomore Leo Kolonin shared his experiences with these stereotypes.
"Often people assume I support the war because I am Russian," Kolonin said. People often think of Russians as emotionless, drunk, crazy, and mean. While some certainly are, the majority of Russians I know are very friendly and outgoing. Russia's invasion has never been positive, and the war has only worsened [the prejudice]."
These stereotypes are not only found in the US, they are also a global problem.
"While in America, most Russians are treated pretty normally, European countries look down on Russians," Kolonin said. "For example, in Georgia, customers are asked not to speak Russian because it's traumatizing to the Ukrainian refugees."
When I was younger, my friends used to make jokes about Russian people, like how all Russians are affiliated with the mafia, give liquor to their children, and wrestle bears in the snow. I never took any to heart because I knew these were all jokes, but I think the next Russian generation will have much more personal and harsh stereotypes that negatively affect their confidence and perception of their culture.
I remember at some point, my parents were ashamed to call themselves Russians when someone asked them their ethnicity. It is harder for people to identify me and my sister as Russian, but for my relatives, their accent is noticeable, causing people to make fun of them.
These misconceptions genuinely cause harm. No one should be looked at as evil just because they're Russian. These stereotypes fuel prejudice, discrimination and suppression. They prevent us from seeing the shared humanity that unites us all, regardless of where we come from.