Fresh baseball coach brings new perspective to team
Coach Rocky Manuel was the head coach for the baseball team for 25 years, appeared in the playoffs 28 times, produced seven major leaugers, two state championships and HISD record 998 wins. Manuel was a vital part of the baseball program, but all good things come to an end. In this case however assistant coach Nick Ozuna stepped up with years of experience to keep the team running. Ozuna was poised and prepared to coach the team through an amazing season.
"I'm more than excited," Ozuna said. "I'm excited every day that I get this opportunity. I've been here for twelve years, and this is my 13th year overall, but it's my first year as head coach. Every day is challenging. I stress to my players that we're trying to get better every day, and as coaches we try to do the same."
Ozuna was not the only one excited about the prospects for the team. Senior Benjamin Ziedman was also looking forward to the season.
"I love Coach Ozuna," Ziedman said. "He really relates to his players well. He's really approachable, and we all want to win for him."
Ozuna knows how high the standards for the team have been set. However, backing down is not something he will even consider. The head coach was ready to meet the challenge head on.
"Being the new head coach is not intimidating at all," Ozuna said. "It's actually an honor and a privilege. Understanding what we stand for as a program, understanding the tradition, I embrace it. And that's what I tell my players: embrace it. Personally it's not intimating at all, it's what I do. I enjoy coaching. I enjoy teaching young players the game baseball, but also the game of life, and building the character skills of our school."
With lots of ambition for his players, the head coach was ready to work hard every day with his players to achieve excellence. His sights were set high for the next season, and his players were as well.
"We have our vision of getting better every day at practice and winning more than 30 games," Ozuna said. "In order to do that, we have to focus on one practice at a time, one game at a time, one pitch at a time, one rep at a time. They understand that. We want to win the district championship, win every playoff series we play in, make reservations in Roundrock, get on a greyhound bus, head west and ultimately win a state championship. That's our plan. That's our vision."
As a very ambitious coach, Ozuna reflected on where his drive as a coach and an individual came from.
"I was fortunate enough to grow up here in Houston with my parents," Ozuna said. "They instilled a lot of those values in me. I went to Bellaire, and I graduated in 1994. I played for a great coach who is now my assistant coach. Coach Knoblauch was the one who laid the foundation of what Bellaire Baseball stands for. Then Coach Manuel came in and really just took it from a state recognized program to a nationally recognized program. We were first national champions in 1999. Those two men were very inspirational to me as a baseball player, an individual, and a coach; but ultimately it started at home with my upbringing."
Ozuna planned to bring this ambition and drive to the baseball team and giving his players everything he had. Not only did the team plan on being great on the field, but in the community as well. Ozuna believed that community service is important and part of the foundation of being an efficient and connected team.
"We do more community service now," Ziedman said. "It's a great bonding experience for us as a team, and of course it helps out the community. Community service is always a good thing."
Ozuna couldn't agree more.
"I tell my players our mission is to be great in the classroom, great on the field and great in the community," Ozuna said. "I feel like we exemplified that a lot this fall, on all fronts. We've gone to the Houston Food Bank in the past, we went to the toy drive at Bellaire United Methodist Church, we do the pumpkin drive on Halloween, and we do the Challenger little league for the disabled."
Other changes had been made already as well, such as the appearance of the team. There was a fresh feeling of confidence in the air.
"We already have new uniforms, new helmets," Ziedman said. "There's a new kind of look to the team."
Senior Jake Yudkin agreed about the feeling of change.
"I think a lot is really going to change," Yudkin said. "Things like roster decisions and the way we're going to be playing this season. I think we're going to be a lot heavier on the offensive side rather than the defensive. I feel like there's a new type of energy. It just feels like out with the old, in with the new."
Overall, the upcoming season looks bright for the baseball team with the new head coach in place. While change is hard it can be refreshing, and everyone seems to agree that Ozuna is more than a worthy successor to Manuel.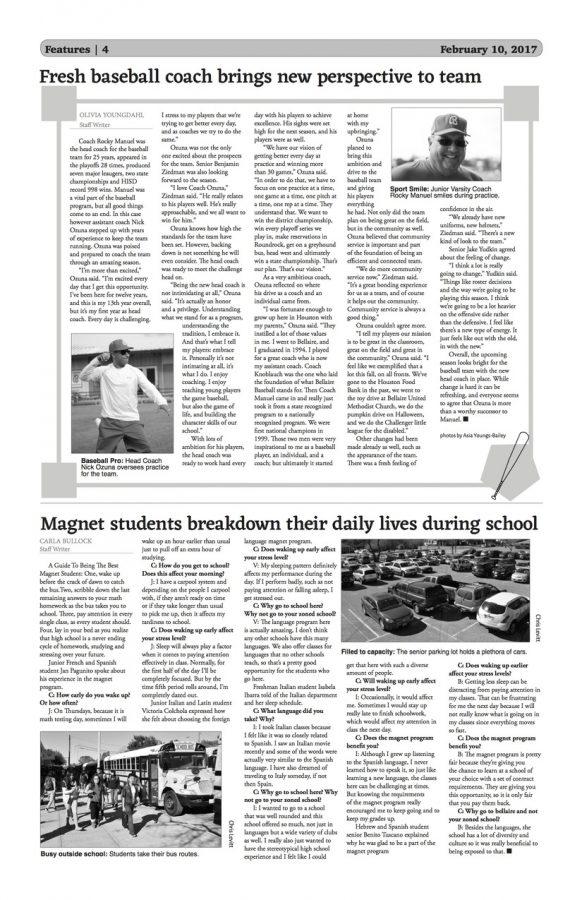 Leave a Comment