Varsity football adapts to COVID-19 restrictions
Despite COVID-19, UIL restrictions and a nine-month break, varsity football players have built vigorous confidence using this time to get healthier, stronger and more knowledgeable. 
After ending their 2019 season with a 7-4 record, returning players are ready to get back on the field working again.
"We feel great that many players are back and we know what it takes to win," senior and captain Rodney Dansby said.
Dansby added that he and many of his teammates feel that there is no problem with beginning this season.
Facing UIL restrictions such as face coverings throughout practices and limited fans can justifiably be a struggle to these players playing a contact sport. 
"We were impacted early in the season when a teammate became suspected of having COVID-19," senior and captain Walter Truitt said. "Our first game and all in-person activities then closed."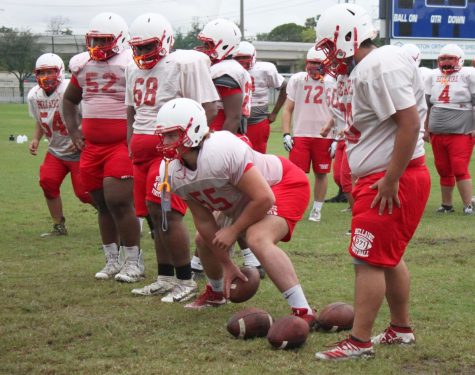 "We're taking everything day by day until we can overcome unfortunate situations," junior and cornerback Trent Reeves said.  "Of course it's different but that's something we'll have to work on as a team."
In fluctuating times, players are aware of what could potentially happen, such as random practice cancellations, game delays and unexpected situations.
"We never know what could come up unexpectedly," Dansby said. "We just try our best to work together through the uncertainty." 
In spite of the coronavirus, the football team is synergizing to ensure this season will be the best one yet. They plan to take advantage of every moment of training, according to Offensive Linemen Coach David Sloan.   
"Every practice is crucial and we try to impart that upon the players that there can't be a single waste of rep because they all count," Sloan said. "Every practice, play and rep is going to prepare us to play in full effect this season."
Sloan added that the players out on the field are now required to wear face coverings while running plays and reps, while coaches are doing the same on the sideline.
"Breathing heavily, running, hollering, trying to catch a breath while wearing a mask is difficult for players and coaches. We are now coaching and playing ball through a mask," Sloan said. "Football is a very spread out playing surface. People are all over the place we're used to being able to yell and project our voices even such as putting a whistle in our mouth. Having a face covering affects the way we usually operate." 
Danby is confident that the team will input 100%.
"I believe the season may be a challenge as it always is," Dansby said. "I believe we can pull through this year and get the W for Bellaire."
The Cardinals are scheduled to play Lamar on Oct. 24 at 2 p.m.