Boy's lacrosse team enjoys first practice
The boy's lacrosse team practiced for the first time on Monday, Sept. 28. at the St. Thomas Episcopal field. Fifteen new players joined the team.
"I was most excited to meet the new players and build team chemistry for the upcoming season," senior Aidan Figueroa said.
COVID-19 precautionary measures were put in place to ensure the safety of the team. The players wore masks to and from the field and practiced social distancing when possible.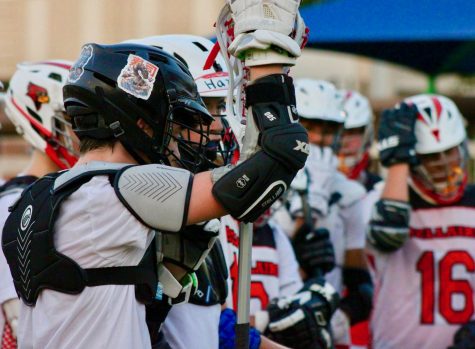 "For the most part I feel safe at practice," Figueroa said. "If someone on the team were to get it, it would spread because lacrosse is a contact sport."
Prior to the first practice, coach Nick Ignatiev and the team officers had a Zoom meeting to discuss how practices were going to look like during the pandemic.
"As the president, I was aware of the plan before the first practice, and I was confident in it from the start," senior Xander Fell said.
The team plans to hold practices three times per week.
"However, if a player does contract COVID-19, the team will likely shut down practices for two weeks," Fell said. 
Despite the date of their first game being unknown, the team is determined to keep up a consistent practice schedule.
"Our motivation right now is to be the best team we can be," Fell said.