Varsity swim competes in first meet since regionals this past January
Swimmers, take your marks! This is something each member of the varsity swim team has patiently waited months to hear. 
On Dec. 12, the swim team swam its first meet since January of 2020 when they competed in regionals before the COVID-19 shutdown. Unlike a lot of the other varsity sports at Bellaire, the swim team was unable to work ample practice time into its schedule prior to this first meet due to COVID related issues. Nevertheless, the team was thrown right into the heat of the season, with its first meet being against arch-rival Lamar High School, and while winning is always the goal, this first meet was about much more than that to the team. 
"It was nice to regain some sense of normalcy," Junior Henry Pu said, "I missed being able to compete with my teammates and the time off felt even longer than it really was without being able to swim."
With Lamar having already been practicing for a while now, Bellaire did not expect to be in shape to knock them off just yet- but it is their goal.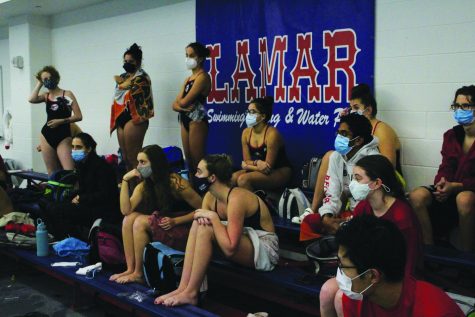 For Henry, just like the rest of his teammates, the meet was just about being back out there again. Henry said himself that he did not feel as prepared for this meet as he would have liked, due to inability to hold team practices, but he believes as the season goes on he can reach his top form again with more practice. On top of getting back to his peak form, he simply is hoping to continue to gain stamina as well as get closer with his teammates from whom he was separated for so long. 
Amid all the coronavirus precautions and the way officials have altered the season, the meets remained relatively the same, which was a comforting thing for the swimmers. 
The meet was surprisingly similar to all the past Bellaire meets I have done," Pu said, "Besides the strict rules on masks, nothing else was much different, and it was nice to experience the sport in a somewhat normal fashion again."
As far as expectations, the team was unsure of what to expect with so many unknowns about stamina, team chemistry, and even COVID precautions. 
"I was a bit nervous for this meet just knowing that a lot of the team hadn't been in the water for a long time," Diara said, "But I honestly was just excited to see everyone's face and cheer everyone on and to see how we perform in our first meet back."
Along with more practice for the first time in a while, this meet was also a chance for the team to come together and build relationships with each other. 
"In the relays, it was just nice to see that we were all there for each other and cheering each other on, and I think we did well," Diara said. 
Nothing helps the swimmers keep up their stamina and improve their times like hearing the muffled yelling voices of their teammates from under the water as they swim, and although the team hadn't spent much time together, they all understand the impact they can have on each other.
 In every race, at every moment, no matter who was swimming, they all made a point to show the utmost support and enthusiasm for one another. Among all the things that COVID took from this team, effort and attitude were two things they could control, and they did just that. 
Whether some of the swimmers had kept up their training during the layoff or even used it as a time for rest, the season has now begun and they are all, once again, fully committing to the team's success. And because they were unable to practice together, everybody had to prepare themselves in different ways.
"Individually, I did pretty well and met my expectations because I have been practicing with my club team throughout the layoff from school swimming," Diara said, "Even though I was one of only a few who continued to train over these past few months, everybody looked pretty sharp, and we definitely will continue to improve." 
While some of the swimmers may not have been as satisfied with their performances, Coach Jason Schmidt could not have been more proud of his team. Even so, it was less important to him for his swimmers to place than it was just to see them out there competing for the first time, and spend some time with the team as a whole.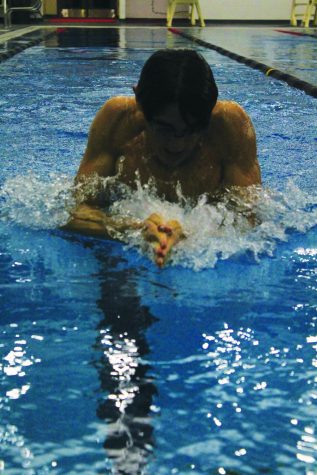 "It was just so nice to get to meet all of my new swimmers and to see them swim," said Coach Schmidt, "And that in and of itself provided almost a sense of normality for us, which is something that we hope to maintain. That will bode well for the future of our season."
Coach Schmidt understands that his team has been through a lot during the coronavirus layoff, and lack of practice certainly didn't help, but he was as appreciative as ever to get to see his swimmers in action and to continue to bond with them. And entering the first meet, those were his two main focuses. 
As the season progresses and the team can continue to practice again, he hopes the team uses what they learned during the layoff as well as in their first meet back to their advantage. Coach Schmidt is keeping a positive outlook on the season and maintains a mindset focused on team growth. 
Tonight was just laying down the foundation," Coach Schmidt said, "Seeing the swimmers swim and getting to know them outside of the water was my priority, and now we, as a team, can build upon this first meet, knowing what we're working with and we can go from there. We have a great group of dedicated swimmers who I know will work their hardest for us to have an incredible 2020 season."