Varsity volleyball girls power through most successful season in years
A year ago, not one varsity volleyball player could envision how their season would play out.
Fast forward to the tail end of this rollercoaster 2020 season and the girls find themselves in a great spot on the brink of a great playoff push. They finished districts undefeated, going 14-0 and winning in dominant fashion throughout district play, closing out multiple sweeps. Entering playoffs, the Cards hadn't faced their toughest test yet. After facing and defeating Stratford in the first round, the Cards ran into Katy High School, who proved to be their toughest test, knocking them out of the playoffs in the second round after their incredible dream season. 
"As with any loss, there is always self reflection on what else I could have done," Coach Nicole Blakeman said in reference to the team's match against them, "With all of the distractions, schedule changes, and increased health precautions; the Cardinal volleyball program took everything in stride, and competed match after match."
The impact of COVID on high school sports seasons should not be understated. The intensity of its impact even reached the point where players were left wondering if they would get a season at all. One of the most obvious impacts was the addition of masks as part of the team's gameday and practice routine. Furthermore, the absence of fans was also a huge change for this year's varsity volleyball squad, as they historically are among the school's most successful teams. 
"Not having fans has been a huge game-changer," senior setter Lexi Martin said, "It changed the way we approach each game as far as having to create our own momentum and energy without the help of our fans."
As far as expectations go, the team really didn't have many about the season itself. After the coronavirus shutdown in early March, they were at a loss for what to expect, so entering this season blindly, has allowed them to greatly exceed their expectations. . 
COVID has definitely had more positive impacts on them than it has negative. Because the team has 3 experienced seniors leading it, according to senior Kate Hester, COVID has provided them with a leg up on the competition. 
"It's been awesome to see how the seniors have really taken responsibility and held the entire team accountable,"  junior Olivia Ogden said. " Because our team naturally is so hardworking and we all really care about each other and the team, we have had no issue motivating ourselves to stay ready and in shape."
The girls emphasized accountability throughout the time off, keeping each other on schedule and making sure their focus was never lost.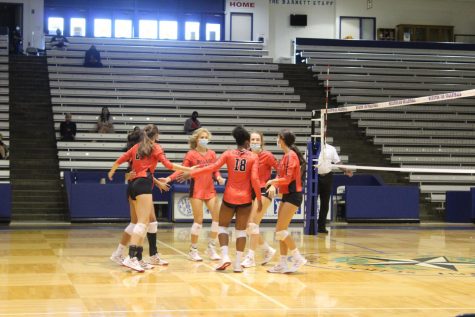 "It's brought us together," senior captain Kate Hester said. "We're all trying to stay safe/healthy so we can continue to play, so we hold each other accountable and we end up hanging out with each other more in our free time to stay in our bubble."
The team proved once again to be as relatable and close-knit as one could imagine, even when they are off the court. 
Hester said they try to find ways to do stuff together since they can't do official team bonding with COVID.
"We play Among Us so much," Hester said in reference to the popular new phone game. "We play it on the bus rides to games or on FaceTime over the weekends and we've even gotten our coach to play with us. The team tries to find new and unique ways to remain close and strengthen their bond off the court. It is their persistence in doing this, that they have found so much success together this season- going undefeated in district play and finding themselves entering playoffs with the utmost confidence.
For the many seniors on this year's varsity team, it was the fear of losing their season altogether in the early stages of the pandemic that really put the season in perspective. Amid all the winning this team has experienced this season, the seniors put that to the side when discussing this season and just show appreciation that they were able to salvage their special final season that they have worked so hard to get to. 
"I'm so glad I even get to have a senior season," Hester said. "This year has been crazy and I love playing with all of my teammates and I would have been so bummed if I didn't get a chance to play with them one last season."
The team's appreciation for the game and genuine appreciation for each other really puts this season into perspective, and to see how close this pandemic has allowed them to become is really an inspiring thing to see.