Varsity girls and boys cross country teams give their all in regional meet
Ryan Lu , Managing Editor
January 13, 2021
The varsity girls and boys cross country teams powered through a grueling five-kilometer race on Tuesday, Nov.10 in Huntsville, Texas. 
Senior Cate Urbani described her training process and how she prepared herself mentally and physically.
"For regionals, I had a peak mileage about a month before where I ran 50 miles a week for a couple of weeks," Urbani said. "I decreased my mileage this week to taper for the race and in order to mentally prepare I visualized the course and did different workouts to prepare for different segments of the course."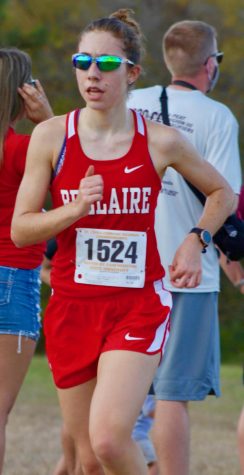 Junior Collin Crockett readied himself with a similar regiment and eagerly looked forward to the day of the meet arriving.
"I went out and did long course runs during the weekends, and I tried to run every day of the week before the meet," Crockett said. "The day before I thought a lot about the race. I was getting all nervous and sweaty, and I thought about what I was racing for and what I wanted to accomplish. We all tapered and took a few days off before the race and did not run anything too hard."
Principal Michael McDonough attended the race and gave his support to the runners from the sidelines. He felt proud of both teams' efforts despite the teams' not moving on to the state competition.
"I was glad to be able to get out there and support our athletes," McDonough said. "It was exciting to see the race, and these were the top athletes in terms of speed and stamina. It took less than half an hour, but the speed and endurance of the runners were incredible. Unfortunately, our squads did not advance, but they represented Bellaire extremely well. They inspired me both as a runner and a principal. It's no easy feat to run on that terrain, and the competition was especially fierce too. The conditions were incredibly difficult to run in, but it was easy to cheer for our teams and be proud of their effort."
Though the race did not yield the results the runners were hoping for, Crockett found a silver lining.
"The team placed 11th out of 16th teams," Crockett said. "Not too well, but we all ran the race we wanted to run and a lot of us beat our personal records. I beat my personal record. My PR was 17:48 before, and I ran a 17:44. And this course was a lot harder than my previous course was."
Urbani reflected on what made this particular race so much more difficult than previous ones.
"We usually practice at 5 a.m., and the race was at 3 p.m.," Urbani said. "Because we run in the morning there's usually not the sun, and we never have to practice hydration and eating. So having a race where we had to eat breakfast and lunch probably threw a lot of us off. I was dehydrated, and it definitely threw off our timing. Combined with the hot weather it is physically and mentally draining. It felt like a desert out there."
Crockett commented on the loss of this year's seniors and how the team should prepare for next year's season.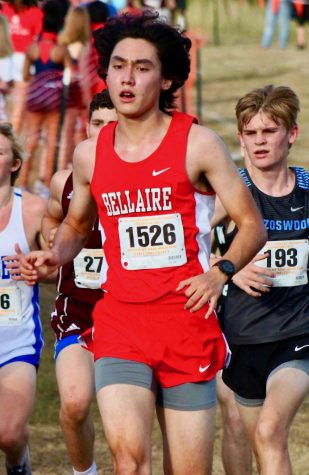 "Those two seniors were pretty fast and we are going to miss them," Crockett said. "Unless we get some fresh meat we are going to have some pretty disappointing results. As for me, I am aiming to run really hard this summer to prepare for the next season of cross country. I think we need to keep practicing and for everyone to keep up the grind." 
Rather than dwell on the results of the race, Urbani encouraged her teammates to look forward to future opportunities and recognize the effort each runner put in.
"We are taking a break now before track, and I know everyone was super happy with their performance," Urbani said. "I think what we can all take from this race is that effort is what matters and that we give it our all. That's what I think our mentality should be moving forward." 
McDonough shared additional words of encouragement for the teams.
"Don't be intimidated by the challenge," McDonough said. "It's a great team sport for giving it your all, and even if no one places first, everyone can play a part in winning the meet as long as our runners finish close to the top. Once you keep going and training in that environment, our team will keep pushing you to greater heights. It's all about dedication and growing stronger together. We have a great group of young athletes, and I can't wait to see what they accomplish next year."