One shining moment
NCAA men's college basketball tournament excites teacher, students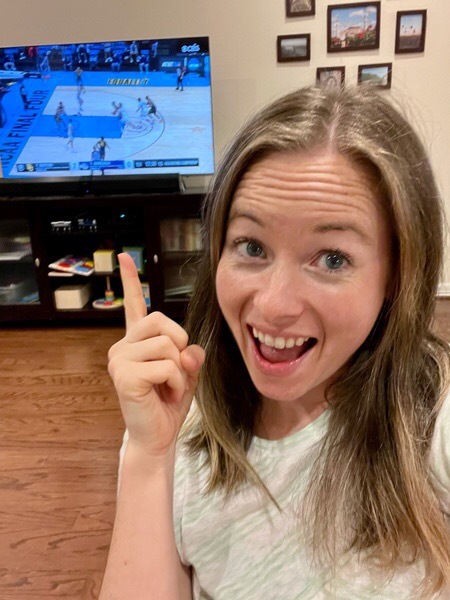 March Madness. 
Together these two words give sports fans worldwide a feeling that can only be described as different. It's an event so monumental that one could even deem it a national holiday without much contest. If you haven't sat down and watched more than a second of college basketball all season, or if you watch every game that you can, it makes no difference; almost everybody participates in the bracket-concocting holiday that defines the entire month of March. 
AP Economics and AP Government teacher Natalie Christian said she tends to go off of rankings she's seen when picking her bracket and goes with her gut to select her choices of upset picks. 
"When picking upsets, since you know there will always be some, you kind of have to predict the right ones without much knowledge," Christian said. 
She is exactly right. Sensible knowledge could never lend to the idea of picking an upset such as Oral Roberts, a small religious school in Tulsa, Oklahoma, to beat athletic powerhouse Ohio State in the first round. But that is what makes this tournament so fun. Logic goes out the window. Absolutely anything can happen. 
There is a level of pride that comes with picking March Madness games correctly. Everyone has that one, correct upset pick they had years ago that they bring up every year when March Madness comes around. When asked about any upset picks she predicted this year, Christian first wanted to establish that, "If anyone says they picked Oral Roberts, they're lying." 
There is a level of competitiveness to bracket making and wanting to be the one to pick the most correct and most wild upsets. She proceeded to point out picking the 13-seeded Ohio Bobcats over 4-seeded, defending national champion Virginia Cavaliers as her top correct upset pick. 
"I had faith in Ohio to go further, and I didn't have much confidence in Virginia since they were coming off of a COVID stoppage," Christian said. "Unfortunately, Ohio didn't get into the Sweet 16, but they proved me right for the most part." 
The COVID stoppages that many teams experienced this season is what made this tournament even more unique. With the tournament taking place in a quarantined bubble, which players could not penetrate for the length of their team's run, the likelihood of upsets increased exponentially. 
Christian's alma-mater, the Texas Longhorns, were bounced in the very first round by in-state opponent Abilene Christian University. This shocked the world. 
"That one hurt," Christian said. "I put Texas in my final four. I am biased of course, and it is hard for me not to put them in the final four when they are as highly seeded as they were, but I knew I probably shouldn't have." 
School pride has a different meaning in March. Everything gets more intense. However, the tournament is so great because fans, regardless if their team is still in, stay glued to the TV. Even if your team is out, you still have stock in every single game and a bracket to root for. 
"Once Texas is out of it, which usually doesn't take that long, I start rooting for the underdogs and my bracket," Christian said. 
Sports fans are who they are because of the elements that make up the games they love: drama, unpredictability, passion from their players and raw emotion. 
"The reason we all love March Madness the most is because it has all of those things to the highest degree," senior Max Melamed said. 
Something about the calendar turning to March allows moments within these college basketball games to happen that just don't happen in the other months. It is not explainable in any way, but it is accepted. 
"I have never seen so many crazy upsets and Cinderella stories in one March Madness tournament," Melamed said. "Never in my lifetime can I remember a team going from the First Four to the Final Four the way UCLA, who nearly beat the unbeaten Goliath of NCAA Men's Hoops by the name of Gonzaga, managed to do."
Melamed said he watched much of the regular season, yet his bracket did not reflect that. 
"Seeing how horribly my picks did, you'd think I hadn't watched the regular season at all," Melamed said. "Weirdly enough, that's exactly what makes the tournament so amazing. If it was easy to predict, it wouldn't be nearly as thrilling." 
The tournament's unpredictability provides an entertainment factor unseen in any other sport. Every NCAA tournament has its one shining moment. This year's may be the best of them all. When Jalen Suggs, point guard for the undefeated, number one overall seeded Gonzaga Bulldogs, threw up his last, second half-court heave for the win, every fan who had Gonzaga winning their bracket held their breaths. It was not long before they all exhaled with immense exuberance as his shot banged off the backboard and through the net, earning his team's spot in the National Championship game. 
"I'm in a big bracket pool with all my friends," junior Aidan Reichek said. "I really needed Gonzaga to win the title because I would have won my pool. When that shot went in, my friends and I immediately began to text about it. I rubbed that win in all of their faces. Obviously, it didn't work out in the end, as Baylor beat them, but the thrill in that moment was amazing. That was definitely my favorite moment of the tournament." 
When asked about the uniqueness of the tournament and how it compares to other postseasons, Christian said that an overtime win can't be beaten from a banked-in, half-court three. And she's right. There is no other situation where an event so crazy could happen, and its only rationale was, "it's March." That is exactly what this tournament is. 
March Madness came to a close with the Baylor Bears being crowned the champions. Although the title game wasn't close for the majority of the game, it does not take away from the litany of incredible moments the tournament provided for its fans. There are bad World Series as well as great ones, and bad Super Bowls as well as historic ones. However, March Madness is the most consistent and incredible game of them all. It never fails to deliver.