Men's Varsity Soccer Recap: seniors reflect on final season
The boys varsity soccer team's season came to an end on March 27 after a nail-biting playoff game against Cypress Ridge High School, which ended with seven senior starters hanging up their cleats in their last high school soccer game. Three weeks after their last game, Coach Rodgers, who entered the program last year and led the team to their second district championship in a row, and 10 players won district 18-6A awards, which recognized the talent, hardwork and dedication the players put in during an extremely difficult season.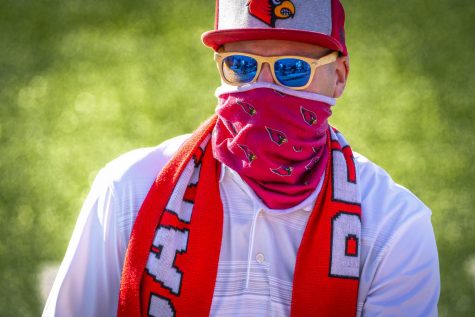 For senior and team captain Jake Loor, who won district MVP, the awards led to mixed emotions. 
"[MVP] is nice because it's something that I have been trying to win since I first started my sophomore year," Loor said. "But to be honest, it is a little bittersweet because the one year I won, we didn't get to actually win the district as a team, which is more important." 
Loor, along with senior and co-captain Eugene Heger, led the team through their own pre-season practices that followed strict COVID guidelines, as the district prohibited official practices for all soccer teams amidst the pandemic in the fall. 
"We had to make two main adjustments for COVID," Loor said. "First of all, we weren't allowed to have fans for the preseason games, which made it feel kind of strange, almost like a practice. The other big adjustment we had to make is that there was no off-season for HISD this year, so Eugene and I had to arrange our own squad practices at a public park near Willow Bend." 
Loor, who ended the season with eight goals and 20 assists, believed the awards his team won reflected their work throughout the season. 
"The teams from Katy ISD and other districts were able to train, but HISD had limitations," Loor said. "It was something we had to figure out how to work around. This year was special because there were guys like Carter Sasser and Noel Mequanint who won awards playing outside their normal position. Quintin Latchett, a sophomore, also won an award. Noel is generally an attacker or midfielder at his club, but he played centre-back for us. This was really impressive, and he showed us that he could adapt to the situation."
Heger, who ended the season with four goals and eight assists, felt the same as Loor about his final season and the awards that his teammates won.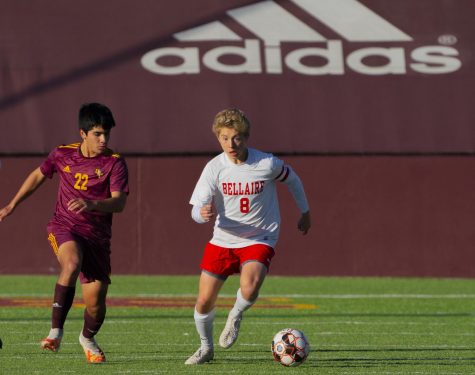 "I think I worked very hard as captain and as a member of this team," Heger said. "The awards were deserved, and I'm very happy for the other players."
However, his disappointment in his final season came from the team's loss in the first round of playoffs. Heger, who also played varsity soccer his junior year, had last school year's season canceled due to COVID. This was his first year to represent the school outside of the district. 
"I'd say I was pretty disappointed with how the team finished the season, going out in playoffs like that," Heger said. "I was proud of the team all season, but it was tough to go out like that against Cy Ridge."
Senior Ron Masti followed the same mindset as his captains, as he finished his season with 11 goals and six assists.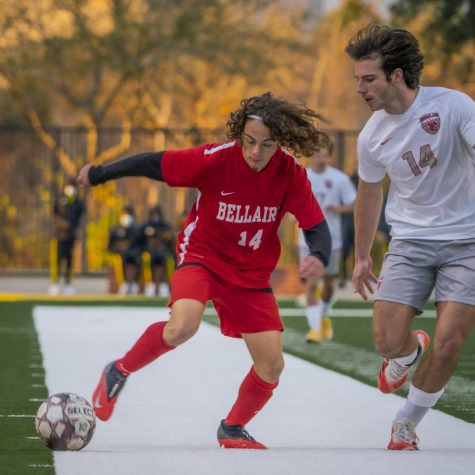 "We were all disappointed with the outcome," Masti said. "We didn't win a single trophy all year, partially because pre-season was cancelled, but also because of some bad performances. We scored the most goals in the league, we conceded the least goals and we had the best record. We just lost too many penalty shootouts, and that's what it came down to. However, I was happy with how the team played in most games."
Masti, who was excluded from the team his sophomore year, became an integral part in his junior and senior years. From not being able to play to being awarded a First Team All-District recognition, Masti looked back with happiness on his journey throughout high school soccer. 
"Soccer was one of the best experiences in these four years," Masti said. "You make tons of friends — it's extremely competitive because of the format — and you learn a lot. It was great to represent the school as well."
Like Masti, Heger and Loor, who both played three years on the team, had fond memories of their time as a Cardinal. 
"I've played soccer my whole life, and I don't think I've had more fun than playing for Bellaire," Loor said. "It's just a great experience — the community, the support from people who don't even know soccer, and the fact that you get to play with your friends and the people sitting next to you in Pre-Calculus class. I think the whole four years will be a great memory for me for the rest of my life." 
Despite the season ending sourly for Heger, he reflected on the three years he spent on the team with positivity. He believed that next year's team has potential to achieve what his team failed to achieve this year. 
"I will definitely look back on [soccer] and those three, very good years with fond memories," Heger said. "As for now, though, we'll have to see for next year. I think there are a few underclassmen that should be able to lead the team next year. The sky's the limit."