Varsity volleyball girls continue dominant streak
Undefeated. Deep into the 2021 season, the Lady Cardinals continue to dominate district play. After losing to Katy in the second round of the 2020-21 playoffs, the Lady Cardinals look to replicate their undefeated season and improve on last year's playoff run.
The varsity volleyball team recorded their last district loss on Sept. 12, 2018, and dropped one set in the last 2 years.
"We obviously want to keep up our undefeated district streak," senior captain Adeline Lasics said. "We're hoping to not drop any sets and we're hoping to get past round two and hopefully get to the state championship."
Practice and preseason play an integral part in the preparation of any sports team. Last year, the girls missed out on 20 games of the preseason. Preseason helps the teams mesh and prepares the team for district play. Increased practice and a true preseason have been vital for the team's success this year.
"We practice every single day, sometimes before games," senior Jayla Harrison said. "During the summer and the beginning of the school year, we'd play volleyball six days a week with practice during the week, two games during the week and a tournament on Saturday."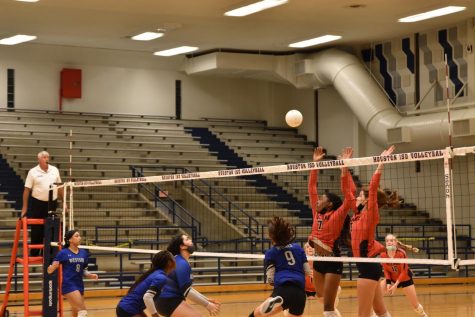 With many COVID-19 restrictions still being enforced, the girls are still adapting to HISD-enforced restrictions.
"We do have some restrictions, like masks, fans at only 50% capacity, not switching sides, and at the neutral HISD fieldhouses, we play at vary with their restrictions," volleyball coach Nicole Blakeman said.
With an increase in practice and preseason, expectations rose for the girls. The girls want to keep improving, and they are raising the bar for themselves this season.
"I expect to definitely win district and keep on being district champions, and making it farther than we did," Harrison said. "Or at least making it to the second round of playoffs like we did last year."
One of the biggest factors that has changed since last season is the full capacity crowd allowed back into games. Crowds are returning to games this year, and they are having a major impact on the energy in the gym.
"It makes the games a lot more fun to be in and play and because like, you'll have the same energy on the court but when the energy is reciprocated by the fans in the fieldhouse it's just so much more fun to play, especially when my friends come," Lasics said.
Leave a Comment