From uncertainty to certainty: student athlete's pandemic experiences
When I look back and ponder upon the impact COVID-19 had to offer, it shocks me to think of the sudden change in life I faced as a student athlete. My experience as a student athlete in all the uncertainty over the past year has motivated me physically, mentally and emotionally. To think of the fact that I suddenly couldn't practice with the help from my personal coach was draining. I was so adapted to the way of life before the pandemic that it was difficult to adapt to the abnormal.
Since my childhood all I've known is church, school, golf and traveling, but when the pandemic hit back in March of 2020, everything changed. Not being able to live life normally was complicated. My thoughts continuously reminded me that this was the new normal.
Trying to grasp the reality we were all forced to deal with was unfortunate, especially being an athlete. In my case, this meant not playing golf for a while. I never quite understood why people said "you never realize what you have until you don't have it anymore," but soon after we were hit by a pandemic, I realized what that meant.
As the weeks of self-isolation went by, I not only learned more about myself but also my game of golf. I would stay up all night watching ESPN or the Golf Channel while putting inside my house or journaling about life in general. I waited tirelessly for the notification that golf courses were open again.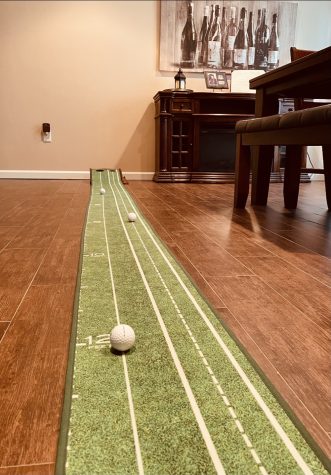 Despite the downside of everything, my parents were always there for me and willing to help when I needed it. They stayed by my side throughout the entire process of trying to figure out what was going on and what was going to happen. They told me that we were blessed to have each other and that no matter what happened, they would do whatever they could to accommodate me. I was a little fearful of not being able to go back to the normal routine I was comfortable with, or at least my normal. I was often overwhelmed by the negatives of eventually returning to the way of life before COVID-19. I must admit that it took a lot to trust the process. Throughout the first few months, I grew into habits that I find normal now, like journaling about numerous topics I find interesting and golf tips I learned from watching the golf channel all night. Habits that will remain with me for a lifetime.
Anticipating my return to the golf course, I finally got the news that I could return back, but I would have to deal with various restrictions. I didn't mind following the COVID-19 restrictions. As long as I was at the golf course playing or practicing, I was delighted. As I would stretch before playing a round of golf or practice, I found myself doing some of the different stretches and warm-up routines that I saw professional golfers demonstrating on TV. As my season approached, I was glad to finally put my inner quarantine habits to work in an actual tournament. Towards the end of my junior year I was blessed and honored to be a prospective student athlete and to actually meet and visit with collegiate coaches. When I thought my journey in golf was over, I was certainly wrong. It had just begun. As my final golf season in high school approaches, I am very thankful for every individual that has helped me along the way of my significant voyage.
I must admit that, in spite of the long break, I developed valuable traits from all of the uncertainty.
Leave a Comment