Varsity women's lacrosse finishes district season undefeated
Varsity women's lacrosse closed out their district season with a 17-3 win over Friendswood High School on Apr. 12.
The win cemented the team's undefeated streak. For senior players, the final victory marked their last game with Bellaire lacrosse.
"I put everything I have into our last game because I refused to lose a game after being undefeated this year," attack and co-president Abigail Goldenberg said. "We might as well have a winning season if it's going to be my last."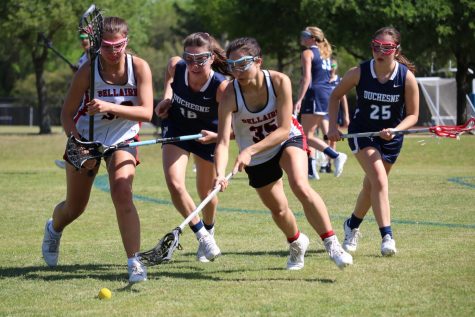 On Apr. 9, the team honored senior players in a ceremony after defeating Duchesne Academy 12-1.
Midfield and vice-president Jessie Han's choir friends arrived with posters and flowers to cheer on their friend during one of her final games. Afterwards, they serenaded Han with a rendition of the song "Jessie's Girl."
"It was a little embarrassing at first but it was really fun to see them come out and support," Han said.
Coaches Mary-Claire (MC) Graham and Kelsey Kaminsky delivered recognition speeches for each of the senior players. After announcing their college plans, the coaches handed players flower bouquets for photos with their friends and families.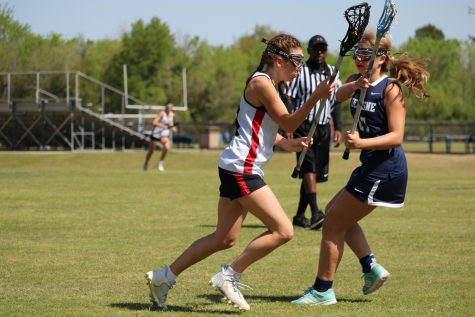 Midfield and co-secretary Ellie Bartlett said she had a blast at the ceremony and that the best part of lacrosse was the socializing.
"There's been a bunch of fun people that I've met," Bartlett said. "Everyone on the team is super sweet."
Han said that with her final season ending, she'll miss seeing her friends at practice everyday after school.
"For the most part it's been the same people throughout all four years, so its kind of bittersweet that it's all coming to and end," Han said.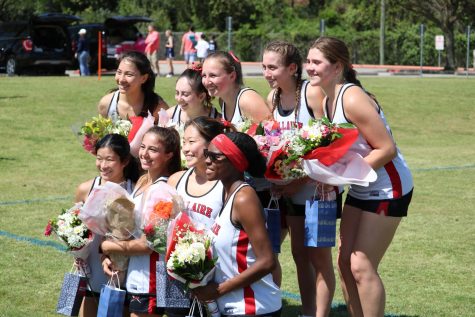 Goldenberg said playing lacrosse meant more to her than just playing a sport.
"It's given me a way to feel really connected to my friends and just explore a whole new world of fun and people," Goldenberg said. "Every memory I've had of lacrosse is good."
Leave a Comment