[NEWS BRIEF] Swim team competes at district meet
The varsity swim team competed at the HISD District Meet against Westside, Lamar, Heights and Chavez on Saturday, Jan. 28. They placed first overall, with 30 out of the 35 swimmers at the meet qualifying for the regional meet this Friday in Conroe.
Bellaire's 17 girls and 18 boys swam their hardest at the districts, which lasted from 8 a.m. to 3 p.m. and was hosted by Lamar High School. The top six swimmers in each event will advance to regionals to compete with swimmers from the Woodlands, Conroe, Kingwood and several other surrounding school districts. There were seven freshmen who made the varsity team this year, including Ada Arya.
"There're not many other freshmen, but it's fun; it makes you feel older," Arya said.
She placed third in the 200-yard freestyle, granting her a spot at regionals. Arya also raced in the 100-yard breaststroke and placed ninth overall.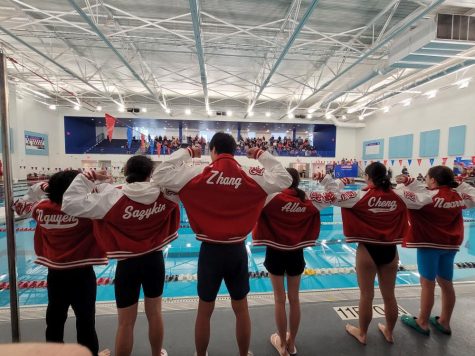 "I wanted to beat the people next to me [in the 200]," Arya said. "Even though it was painful, I wanted to keep going and finish."
The varsity girls' team won districts this year, seizing Lamar's three-year winning streak. For senior Miya Patel, the 50-yard freestyle marked her last high school race.
"I swam the 50 free. I didn't get first, but I went close to my PR [personal record]," Patel said. "I was really nervous because I knew that everyone else was a lot faster than me."
However, Patel was determined to "go out with a bang" at her last swim meet.
"In my head, I was like 'just keep on going; kick as fast as you can' because I knew it was my last meet," Patel said. "It feels pretty emotional. I'm going to miss the team, and I'm going to miss cheering for everyone and seeing everyone grow."
While sophomore Kasen Burris-Richardson was happy to be at the district meet, he didn't expect to qualify for regionals. However, after swimming a personal best on his 100 freestyle, Burris-Richardson became inspired to swim it more in the future.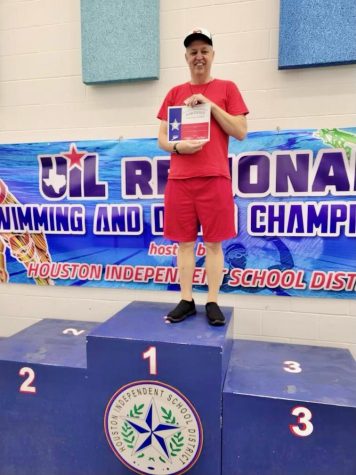 "I won't be placing for regionals, but I'll try harder next year," Burris-Richardson said. "I'm aiming to beat my times."
Throughout his race, he tried to focus on his speed rather than his shoulder injury which causes his shoulder to dislocate when he swims backstroke.
"[During the race] I'm thinking about how cold the water is and trying not to look at the people next to me since I should be focusing on myself," Burris-Richardson said. "But my shoulder problem is the one thing I'm really thinking [about]."
Coach Gary Johnson, who coached the team for the second time this year, won the "Girls Coach of the Year" award. Bellaire's team won overall– their girls placed first and boys third. Thirty swimmers will advance to the regionals meet on Feb. 3-4 in Conroe, TX.
Leave a Comment