'It's exciting, and it's emotional': Softball senior night
With the game only lasting three innings, the varsity softball team played a quick game on April 11 against Westbury, 17-0.
The Cardinals also held their senior night game on Tuesday with their proud parents watching on the sideline to support one of the last games they will ever play. 
"It's exciting, and it's emotional," Stephanie Hester, shortstop Callie Hester's mom, said. "These are all the last games of her softball season, and it'll be the last time she's doing these kinds of things."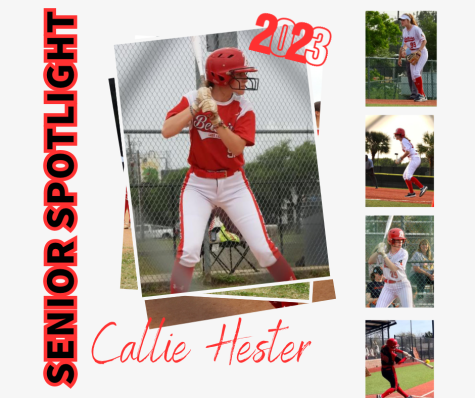 Hester, who committed to UT Austin, got on base twice, earning a run. The game brought back memories for her dad, Greg Hester, and reminded him about the first time he introduced Hester to softball.
"She started playing softball in pixies, which would've meant she was 5," Greg Hester said. "I coached her then, and we both learned the basics of the sport together. It was a fun time."

The senior players' experience showed well in this game. Senior pitcher and first base Claire Shelley, who committed to the University of Pittsburgh, received three walks on a bat and gave a strikeout when pitching.
The team gave Westbury 10 at-bats, striking them out five times with two ground outs in the third inning.

"We hit really well and had a solid defense," Shelley said.

The offense also delivered a strong performance with 20 on base, 17 runs, 16 hits, seven walks and no strikeouts.

Continuing on her journey, Shelley said she enjoyed being part of the team.
"I've been playing varsity for four years, and getting to have this environment around me has been really good," Shelley said. "It's kind of bittersweet. I'm proud of everything I've done here, but it's about time for me to go. It's been good to have people that I can turn to when I need them and have a team behind me."

Shelley is appreciative of the support she has received from her team and coaches.

"Thank you to all the teammates I've had and the coaches for being there all the time, whenever we need them, and creating such a positive environment," Shelley said. "Play your hardest."

While Shelley's mother, Joanie Shelley, is sad to see her daughter leave the team, she loves the memories and excitement that came with being on the team.
"It's sad in a way, but it's also been a lot of fun," Joanie Shelley said. "I felt she was excited to play, and I was excited to see her tonight. We love to watch them play."

Curt Shelley, Shelley's dad, feels the same way about his daughter's last season.
"I felt very torn, very sad. I mean, we're at the end of the road here," Curt Shelley said.  "A few more games and we'll be done. She's been doing this for 10 years now, and we get to see the final result of all her hard work."

Although Shelley and Hester's parents are sad about their departure from the sport, Sally Reid, the mom of right fielder Margaret Reid, tells it a different way. Reid has played four years at Bellaire and is committed to Baylor University.
"I feel great," Sally Reid said.  "She's played 13 years, starting out in kindergarten. Playing this has been a long road of lots of fun times. We've had really great memories and lots of nice friends and families."