Cardinals Advance
In a playoff game on Saturday, April 29, the varsity softball Cardinals secured a hard-fought victory over Memorial 6-5, advancing them to the second round of playoffs. The Cardinals took the lead in the playoffs for a best of three game from the day before, winning against Memorial 4-2 in game one.
The first inning started with Bellaire striking out quickly and ended with a Memorial 1-0 lead. Memorial maintained this lead until the third inning, when junior center fielder Mia Lopez and senior shortstop Callie Hester both got on base with a walk.

Next, senior pitcher and first baseman Claire Shelley came to bat. She hit a home run, giving Bellaire 3-1 to lead.

After pitching four innings, sophomore Sophie Donalson said the team's attitude was key to winning the game.

"As pitchers, we hype up the team to keep things going," Donalson said. "If we're down, it brings the team down."

With a ground out and double in the bottom of the fourth inning, Memorial tied the game. But the tie was short-lived, as the Cardinals came into the top of the fifth inning. 
Lopez and Hester each got a single, and Shelley was intentionally walked to load the bases. Junior catcher Ainsley Pinkerton came to bat and sacrificed with a ground out to get Lopez to score, advancing the others. Sophomore left fielder Meaghan Lande sacrificed the next at-bat, scoring Hester a run and advancing Shelley. Sophomore third baseman Bella Rivera led the last successful at-bat for the inning with a single on a ground ball, allowing Shelley to score.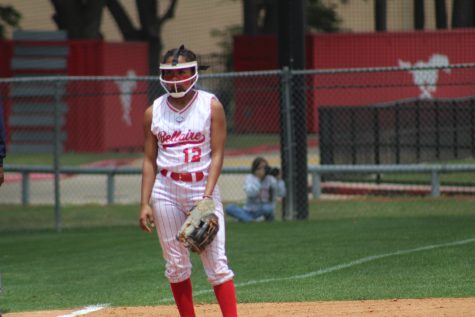 "This win means we have to push harder to win the next round," Rivera said.

The game was tight with a home run delivered by Memorial in the bottom of the seventh inning. Although there were no outs and the score was 6-5, the team continued to play diligently. Hester caught a popout, senior right fielder Margaret Reid caught a fly out, and Hester threw the last ground out to freshman first baseman Lauren Magid.

Despite the close game, Shelley says the team was still prepared to win if they had to play another game that day.

"We knew we had one game won already," Shelley said. "So we didn't have to put everything on the line to play two games today."

Bellaire will play their toughest opponent of the year for their next game: Katy.

"We're working hard, staying focused, reminding ourselves it's just a game and we have the ability to play anyone," Shelley said.

The Cardinals play Katy for round two on May 4 at 6:30 p.m. on Thursday at Katy High School.
Leave a Comment