Butler Stadium was thunderstruck. In Bellaire's first drive within the Lake Creek Lion's territory, quarterback Will Hazen connected with receiver Anthony Miller for a touchdown in the dying moments of the Cardinal's 73-7 loss.
Excitement flooded both the fields and stands as the crowd got up to cheer for the Cardinals' touchdown in the "Rock and Roll Game." The team ran towards Hazen to celebrate as the cheerleaders raised the Cardinal statue six times. One for each point the Cardinals earned.
"It's what we play football for," Hazen said. "I mean, that was a really good team. And it [the touchdown] was to one of my long-time friends and it was what we needed. We had no energy and it just gave us energy when we needed it. Our sideline was really happy and we started playing more as a team so you know, big moments like that."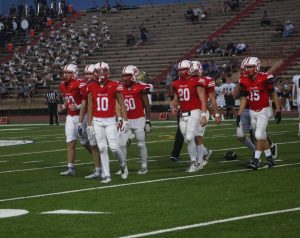 Lake Creek would build an early lead capitalizing on numerous kickoff return touchdowns and a strong running game, but despite being down 52-0 at the half, the Cardinal's defense would persevere against their challenging opponent, holding the Lions to one touchdown in an evenly scored fourth quarter. 
Story continues below advertisement
"I think we stayed in it. I mean, once again, they're a really good team. And it's hard to play a team like that for four quarters," Hazen said. "But you know, us showing that we can come and score in the fourth quarter when we're down by 70 points, which is a lot of points. You know, it shows that we have resilience and we can keep playing even when it's hard."
After much fight from the Cardinals, emotions were high after the fourth quarter ended, with the touchdown buoying the otherwise deflated crowd. 
"I want to dedicate it [the touchdown] to my coach, my football coach." Hazen said. "My quarterback coach, coach Law, he used to be a quarterback here. Some 20 years ago he used to coach here. He's been helping me out a lot. So I want to dedicate it to him, coach Marshall Law."
Head coach Marshall Law, Bellaire Football's head coach for five years, made school history during the 2003 and 2004 seasons, leading the team to two consecutive playoff appearances, the firsts since the 1971 and 1972 seasons. 
Bellaire will have a bye week next weekend but will return to action to face the Heights Bulldogs on Sept. 29 at Delmar Stadium.