Feet pound the ground. Hands clap together. Players rise from the bench in unison to celebrate winning a point. This is Bellaire Volleyball.
This year, the team had four underclassmen playing significant roles. Yet, the girls look less like an inexperienced team and more like a team that just won a 10th straight district title, their 23rd in the last 24 seasons. This dynasty is not just impressive, but completely unheard of within Bellaire sports. The Lady Cardinals' success this season stems from setter Alexandra Ryans, their only senior and natural leader.
"I can't afford to lose my cool or get in my head," Ryans said. "Luckily we have really mature freshmen that make my job really easy."
The team started preparation for the season before the school year began, practicing twice a day in the summer to help them physically and to refine their volleyball skills. After an offseason in which players have played on a number of club teams and environments, Ryans said that the summer was vital for the team's comfort playing on the court together.
Story continues below advertisement
"Practicing a lot was what really helped us get together and know each other's strengths and weaknesses," Ryans said. "[We learned] what kind of sets we like and just built chemistry."
Junior Bentley Sloan's favorite set from Ryans' is called an "A," which consists of a short, line-drive set to Sloan. Sloan said the prettiest "A's" start with Ryans setting the ball and end with Sloan getting a kill on the attack line.
"Our set A is not the most basic, but that's our go-to play," Sloan said. "It's a fast tempo play, which I like, and it usually catches the other team's blockers off-guard."
After getting called up to the varsity team in the playoffs last year, Sloan has taken on the new position head-on. Originally an outside hitter, Sloan transitioned to the middle position this year.
"That was different for me because at my previous club I was an outside," Sloan said. "Learning the timing, where to be, where not to be and not getting in the setter's way is challenging for me to learn."
The offseason was not only a time for the girls to sharpen their skills, but also provided time for the team to build bonds. Chemistry, both on and off the court, is important for any team, but for Sloan, the team's chemistry has been the key to their success. After playing with many of the same players for multiple years, that chemistry has continued to build this season.
"A lot of the same people I played with last year on JV moved up with me to be on this varsity team," Sloan said. "We all have a really good bond because most of us have played with each other since our freshman year."
Despite entering high school a few months ago, freshman Claire Canon plays libero, a position responsible within both the defensive and passing sides of the game. Much of her summer was focused on fitting within the team dynamic, but after winning the starting job at the start of district play, she has played a pivotal role as the fulcrum for communication on the court.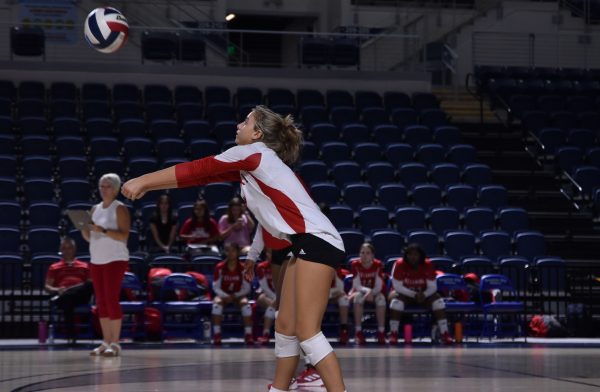 "I feel like encouraging each other and lifting each other up is a big part of communication within the game," Canon said. "[As a freshman] I am working hard, practicing and staying focused and trying to prove that I'm good enough to be on varsity."
This bond and level of communication within the team allows them to offer advice without fear of being too harsh.
"A lot of the comfortability comes with joking around and building a bond," Sloan said. "You can kind of tell people how it is without having to sugarcoat it."
The early district games were filled with 0-2 sets, but the trust and communication that the girls built helped them claw their way back into those games. These experiences have primed the Lady Cardinals for a playoff run that Ryans hopes will end in a state title.
"Knowing that we are [down 0-2] and have to play perfect volleyball, we understand that we can't make any mistakes," Ryans said. "This is what makes our team culture a lot better because that's when we have to lean on each other and realize that the only way we win is if we trust each other and trust our coaches. I feel like these experiences will make our playoff run that much better because we have been down and still came back to win."