The referee's prolonged whistle marked the end of a journey for the young water polo program, whose bi-district playoff season was cut short after the men lost to Alvin and the women were defeated by Dawson in the first round.
Junior Kasen Burris Richardson provided his thoughts on this season and improvements the team plans on making to have a successful season next year.
"I feel like the season went a lot better than last year, and while we did lose some games, we won more and improved as a team," Richardson said. "I plan on taking Viper Pigeons over the summer so that I can improve more and do more for my team as well as feel as though I have more value as a player."
Last year, the Viper Pigeons, a year-round water polo club, began to hold practices at Bellaire's pool. The team holds practice four days a week and has tournaments for athletes to gain game experience. This year, many of the Bellaire players have also joined the Viper Pigeons to continue practicing and learning between seasons. Junior Luca Rainusso has gained experience from both the Viper Pigeons and being a Bellaire water polo captain.
Story continues below advertisement
"As captain you have to consider team morale and attitude; no one would play if they got yelled at the entire time, but we also wouldn't get better if everybody did what they wanted, so I had to create a positive atmosphere," Rainusso said. "Also, I had to learn how to be flexible with others and their attitudes. Sometimes when they don't do what you want, you often get frustrated and that helped me develop more patience."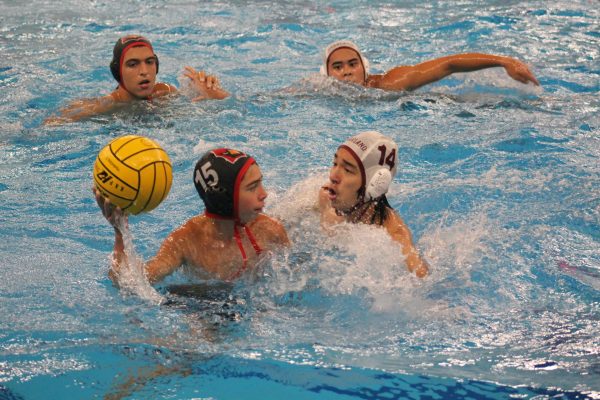 According to Rainusso, the team's biggest strength this season was their "dedication and passion."
Junior Nicole Dibos shined in her second year as the Lady Cardinals' captain, anchoring an improved team from last year. Despite the steep learning curve she had as a sophomore on the team, Dibos believes she has been able to handle the new responsibilities well.
"I was captain my sophomore year, so this year I already knew what to do," Dibos said. "[This year,] I have a lot more pressure on me to run everything: organizing and making sure my team is there when they need to be there. It was more responsibilities that I didn't have before, but I was able to adapt."
Dibos helped to maintain a positive atmosphere for the team, despite some members having no prior water polo experience. Sophomore Miranda Wang had some initial reservations about joining the team, but her inexperience did not stop her from enjoying playing with the Cardinals.
"I didn't really expect to love water polo, because I didn't swim before," Wang said. "I was surprised at how fun and supportive the team is. We've definitely made a lot of progress. I'm proud of how well we work together [and] our communication."
Water polo will resume next fall, and the Cardinals plan on continuing to improve their program.