[PRINT ONLINE] 'Go Wildcats!': ensemble delivers a classic teen romance
A look back on RBP's High School Musical
300 students attended this year's "All School Musical: High School Musical" on opening night. It was collaboratively produced by the Fine Arts departments — Red Bird Productions, the Theatre Department, Orchestra, Choir and Dance. Tickets sold out for all four shows as students, faculty and families flocked to watch the musical adaptation of the classic film HSM.
Senior Beta Lomeda played the leading lady Gabriella Montez, her second lead role in an Red Bird production after Urinetown. She auditioned just to have fun and wasn't expecting the lead role. Lomeda has worked with theater teacher Kayla Boffone since freshman year, and Boffone's mindset of gifting everyone an opportunity to expand their artistry generally means not casting the lead twice to the same person. Nonetheless, Lomeda trusted production to cast her a part they believed she would perform well at.
"I remember my freshman and sophomore year, auditioning for plays, and not that many people auditioned for the musical," Lomeda said. "It was definitely super popular this year."
Junior choir member Eloren Arrazolo played Cyndra, a thespian and wannabe opera singer. With HSM being an all-school musical, students who aren't in a theater production class get to audition. Arrazolo was one of the cast members who is not in RBP. Instead she takes choir, so she feels pretty new in the realm of theater.
In October, she remembers waiting in a long line filled with students eager to prove their talents and land a role. They filed one by one to get their headshot captured by an instant camera.
Students vying for a spot had to fill out a form detailing information about the audition process, as well as a tentative rehearsal schedule to show how much time they needed to commit. They received cuts for the music beforehand and were given one to two weeks to study the music on their own, get familiar with the tracking they were going to be working with, then enter the audition. Held in the choir room, tryouts were packed.
In Disney's film "High School Musical", Arrazolo's character, Cyndra, auditions for the school's musical, locking in a side part, but not a lead role like Sharpay's, like she was hoping for. Arrazolo admires Sharpay's musical talents but loathes her over-the-top attitude.
"She's a little bit aloof," Arrazolo said, when describing her character. "She's confident in her singing abilities and she wants to make a difference in the world for sure. She's a little bit awkward sometimes, but she's also conscious of how she carries herself."
Arrazolo prayed for good luck. She wasn't sure if she would get a call back. She auditioned for
Ms. Darbus, the drama teacher, and Kelsi, the piano player, but scored with Cyndra.
"I just wanted to be in the play to be honest," Arrazolo said. "I was drawn to the community aspect of working on the musical, to see the dedication of the actors as well the friendships that get stronger with each show they are a part of. Even working behind the scenes would be cool, like being in the tech crew. They're amazing. I was amazed at their organizational skills, knowledge of the lights and curtains. Ms. Underhill is their faithful leader, and she's also a very fun, energetic person."
Freshman Maria Jose DeLaTorre, one of the four stage managers, led the tech crew. The tech crew split up rehearsal times and technical issues were reported to them before Allison Underhill, the play's director. One stage manager operates sound, another lights, another props and one on "flying". "Flying" is fastening stage props to long metal banisters, attached to a wall of ropes, sending them onto the stage by slowly lowering them.
The tech crew worked backstage, waiting in the wings and listening intently for signals.
"You have to be actively listening the entire time and reading through the script to find your cues," DeLaTorre said. "You can get sucked into watching the performance and there is a lot of waiting in between."
Rehearsals started as soon as the cast list came out in October and ran after school. They normally ended at 6:30 p.m. Practice started with a quick vocal warm-up to loosen their voices and sharpen their focus.Two weeks before the show's debut, rehearsals lasted until 7 p.m.
Preparing for the musical affected Arrazolo's schedule, as she is on the JV swim team.
"The feeling was hanging over me," Arrazolo said.
Official start time was 4:15 p.m., but that never happened. Boffone tried to give the actors time to eat, and the week of the debut, the cast tried on their costumes and got mic'd up, so scenes rolled out at around 4:30 p.m. Cast members and crew went into each week with a schedule outlining what they would be working on for each particular day, whether it be specific scenes to rehearse or a focus on the songs and choreography.
Two days before opening night, the ensemble had their first full run through, lasting about two hours where Lomeda suffered a wardrobe malfunction. She changed from jeans and a T-shirt to a dress, but with mics snaking through the actors' shirts, being taped to their faces, it was difficult completing a clean costume change.
"I went on stage with the back of my dress completely unzipped, my pants were still on and I didn't get to change my shoes either, which I was also supposed to do," Lomeda said. "That was a huge mess, so production ended up changing the process so I would have more time to change."
When describing her character, Lomeda said she completely familiarized herself with her character, down to the little quirks.
"Gabriella is kind of a 'pick me girl'," Lomeda said. "The play is very Disney, and her lines are very flirtatious. Some of her lines I find so ridiculous. She has this one specific line where she's talking to Taylor (captain of the science decathlon team) and she goes, 'Okay, so like, quid pro quo, what do you know about Troy Bolton?' and I think that line was just so funny, it gets me every time."
The all-school musical includes a lot of reaching out to the audience, portraying the traditional Disney movie structure: There are two kids (Gabriella and Troy) that magically fall in love, but they come from two different worlds. Troy is the big basketball star while Gabriella is the 'freaky math girl' ("That's another one of my favorite lines.") according to herself and they are reunited at school.
"Troy is outgoing but not in the way he wants to," said senior Javier Diaz, who plays Troy. "He cares about other people, but whenever it comes to other people caring about him it's complicated."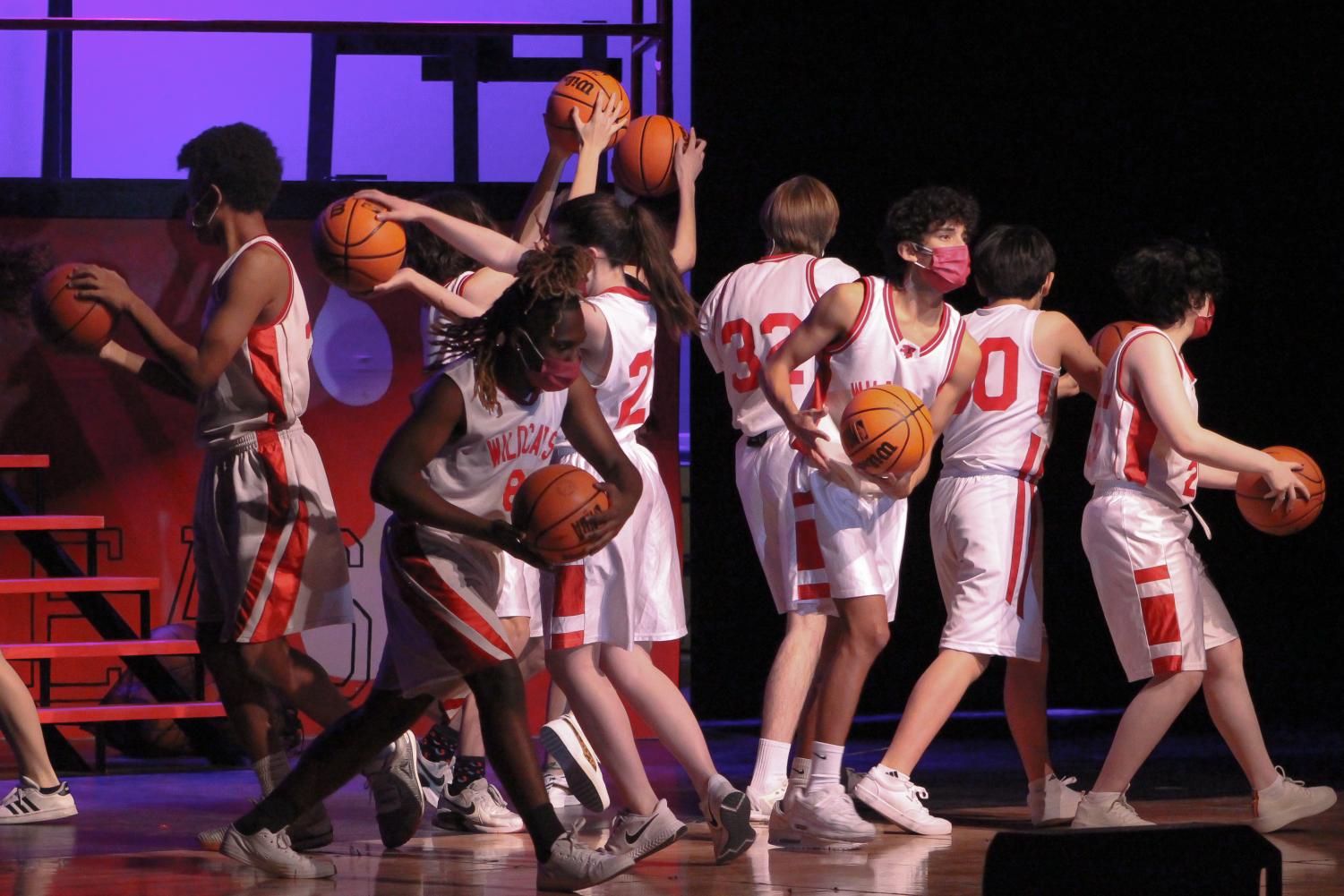 The play is light and upbeat, but there are times where the scenes get tough.
"When it does get emotional, it's like Disney early 2000s, like my heart is on the floor right now," Lomeda said. "It's a little bit reminiscent of Romeo & Juliet in the sense of how diverse their backgrounds are."
When Diaz was cast to play Troy Bolton, he didn't want that many people to know. It was a major lead, and he wanted to keep it on the down low. He originally wanted a smaller role. Troy was in the back of Diaz's head, but he was aiming to play Chad or Zeke, Troy's teammates who want him to focus on practice and ditch East High's musical.
"It ended up great, though," Diaz said.
Jack Scott, played by senior Petru Nechiti, came into auditions thinking he wouldn't get the part he landed with either.
"I got thrusted into the spotlight of a role that requires you to embrace another one of the characters," Nechiti said. "Being Jack Scott is hard and the [theater] teachers constantly give me notes and it's very hard to truly get the character that we [the cast] all want."
Jack Scott is the announcer of East High and mascot. He's the glue that keeps everyone together because he's keeping everyone on his calendar. Included in every clique, everyone likes him and he's the love interest of Kelsi, the pianist. ("We have a little moment at the end, it's pretty cute".)
"It took a lot of time and a lot of practice but I was very excited for the show to come on and also very nervous," Nechiti said. "I was hoping to play the role how everyone wanted me to play it and not just how I saw it."
The play is based on the first movie of Disney's "High School Musical" franchise, but the plot doesn't follow the film exactly. There are some characters in the musical that weren't in the movie, but the general plot is there: high schoolers vying for a spot in their school's play.
"It's a play within a play," Lomeda said.
Manicured with a fresh pink set, senior Jenny Katzen was set on playing Sharpay Evans.
"She's always been a dream role for me and she looks super fun to play," Katzen said. "She's the mean girl but you don't get to be like that in real life, you want to be nice to people, but on stage it's fun to have a bit of sass."
Katzen played Sharpay in the previous year as well and acting in multiple shows allows her to meet students who are just starting out in theater. The integration of people who know nothing about theater and the more seasoned actors fosters mentorship.
"It's pulling pieces from all of the different art forms, the dancers spend a lot of time with the nondancers (theater and choir kids) and then in turn the dancers receive help with anything music-related, so it's a good collaborative energy," Katzen said.
Sharpay is a high-energy role with lots of dancing and even if Katzen is feeling dead, she goes into rehearsals and pulls it together. She doesn't know how she does it sometimes, but she gives coffee a shout-out.
"I just had to do what I had to do to get through," Katzen said.
Katzen had abundant background knowledge of Sharpay's strong personality, but she enjoyed playing Sharpay's softer side. Sharpay is a big character but Katzen knows her character can't be big all of the time, so at appropriate times she finds places to bring her down.
"It's fun to inquire about her intentions like, 'Why is she acting so mean in this scene? Maybe she's feeling a little insecure and she's projecting onto Gabriella," Katzen said. "I'm interested in psychology so that makes sense why I try to figure my character out."
On finding inspiration for how to execute Gabriella's character, Lomeda didn't want to rely on
rewatching the first movie. During rehearsal period it can get a little confusing in her brain because even though the plot is really similar, the lines are really different.
There are similar main ideas to the lines but actors legally can't say the movie lines on stage. Their scripts are different and the cast is legally bound to follow what is given to them in their script. The ensemble was encouraged to not focus on the movie but instead, focus on Bellaire's version of HSM.
Given the production being sold out and stage delivery, the cast was proud of their performance and relished the exhilarating feeling of being on stage.
"We've been working so hard on the musical and it really was the best way to end my high
school career," Lomeda said. "I'm so happy with how we performed. I really feel like it couldn't have gone any better. The energy of the cast was amazing, Javier and I really put our all into our last night and our scenes kept on getting better and better."
To him, Diaz's last performance felt real. He usually just performs and doesn't really take in where he is.
"I felt present the whole way through," Diaz said." "I believe that's why I performed my best that night."
This story is available on our Issue 2 Print Edition! Get a copy at your English class today!
Leave a Comment