[SPECIAL NEWS-FEATURE] Belles compete, choose new officers
March 12, 2022
[NEWS BRIEF] Belles officers chosen for the next year
Belles officer tryouts and elections were held on Mar. 8 and officers were chosen yesterday. Candidates presented possible Belle Ball themes for next year and dances to their teammates, who submitted ballots with their vote. Belles also voted for a senior to be the Belle of the Ball at Belle Ball on Apr. 1.
Current captain and junior Laura Cheng, who will be next year's colonel, said that she is excited to fulfill the role.
"I have some very big shoes to fill," Cheng said. "But I have learned so much by working alongside Bella Mansfield, the current colonel, and Natalie Faris, the current lieutenant colonel. I can't wait for next year and being able to be there as a role model and a guide for both the new and old Belles."
Although sophomore Ryan Rexford said she was terrified, she said she would be 'happy with the results of the vote, no matter what.'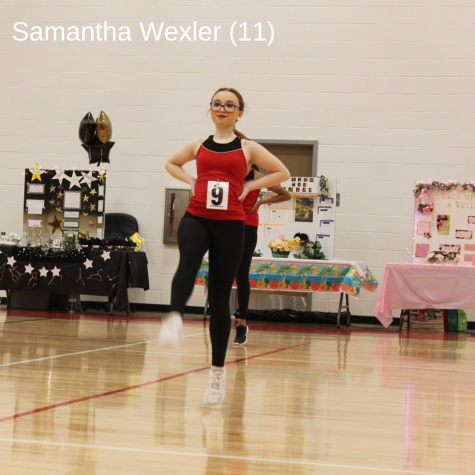 "There are so many amazing candidates," Rexford said. "I have no idea what's going to end up happening, so if I don't make it, that is what it is. But either way, I'll be happy with the result because of how many amazing other candidates there are. So it's like Belles is kind of set up for next year."
Senior and current president Emma DeArman said she is proud of all of the officer candidates.
"Today, I got flashbacks to sophomore year before COVID hit," DeArman said. "I think everyone did a really great job with the circumstances that we were in for the past two years. I always tell all the new candidates to go for it. The worst thing is you don't make it. The best thing is that you do so I just say try for something now."
Leave a Comment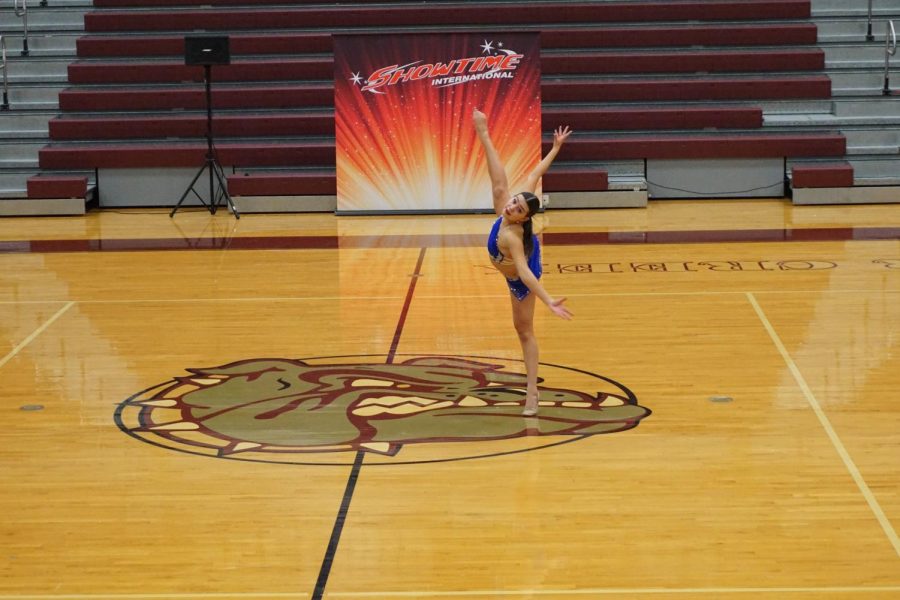 Photo provided by Cindi Denman
Belles sparkle at competition
Varsity and Junior Varsity Belles placed first in Jazz, Novelty and Pom on Feb. 12 at the HISD Marching Auxiliaries of America Waltrip Competition and Feb. 19 at the Showtime District Competition.
The team is now preparing for its May 6 Spring Show.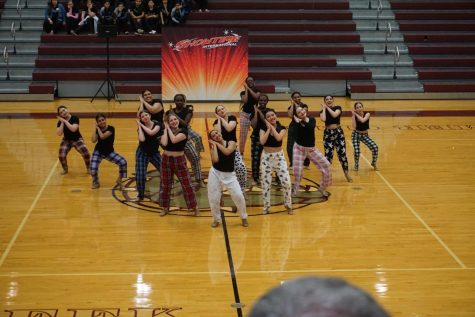 Senior and Colonel Bella Mansfield performed her last solo and team dances as a Belle at the competitions, making Spring Show her last high school performance.
"I really enjoyed getting to spend time with the team," Mansfield said. "Whether we were dancing or not, spending time with everyone is always super fun and I love how supportive everyone is of each other."
Placing third at the MA Waltrip Competition and first in Showtime, Mansfield also received a college scholarship for her first place win at the competition and plans to continue dancing after high school.
"I was honestly kind of surprised that I received the scholarship, but I felt so thankful," Mansfield said. "It was a really great way to end my last season competing with a solo, and I definitely want to find a way to keep dancing in college. I haven't tried out yet, but I hope to be on the Aggie Dance Team or possibly a part of a dance club."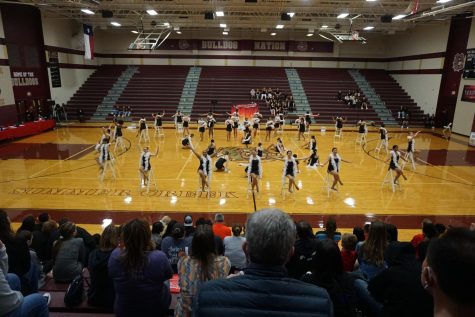 For dancers like sophomore Valerie Perez, this was their first high school competition with Belles. Perez competed with the junior varsity team and a solo, placing fourth in the junior category at the MA Waltrip Competition.
"There's always nerves and excitement before my solo, but at this point in my life, I've trained myself to think excited over nervous," Perez said. "I was confident before going on stage and thrilled while I was dancing. I definitely think I did really well, and I love to admit that I've grown so much since the beginning of this season."
Belles practiced from 4:10 to 5:30 p.m. on Monday to Thursday to prepare for competition, dancing in the Main Street hallway and occasionally using the practice gyms on the second floor. Secretary and junior Samantha Wexler recalls how it felt finally performing with the team in February.
"The team performances were really fun; I missed going on stage with my team and I really like our dances this year," Wexler said. "My favorite part of the competition was hanging out with my friends for way too many hours. Overall, I think the Belles were amazing and I couldn't ask for a better team to compete and win with."
Leave a Comment