[NEWS BRIEF] Buddy Program helps upperclassmen, freshmen alike
Student Council held its annual Buddy Program, an activity that gives freshmen the opportunity to get advice from upperclassmen, in LGI 2 on Sept. 20 with about 100 students in attendance. Junior and STUCO marketing director Saanvi Sadana was surprised by the large turnout.
"We had a lot more people than we were expecting," Sadana said. "I think 120 people signed up. We still had a lot of participation and a lot of people who returned to the program from previous years."
Freshman Preston Lew didn't sign up beforehand but had found himself walking by the LGI when the Buddy Program was about to start and decided to join in. While Lew only stayed for the first half of the event, he was able to talk with some upperclassmen while he was there.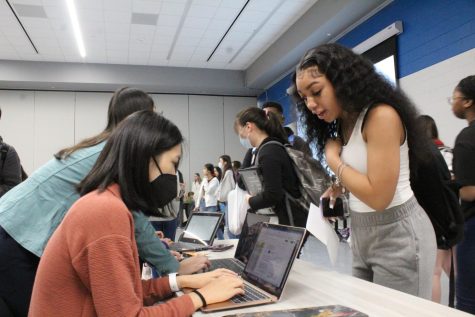 "I knew a few people which was cool," Lew said. "I was with three other people, and they talked about how Bellaire works, how the clubs are and that I should be going to a lot of clubs in January just to meet new people and branch out for college."
One of the main pieces of advice that Lew received was to involve himself in Bellaire's community.
"It reaffirmed to me that I should be going to a lot of club meetings so that I can gain relationships that may be beneficial in the future," Lew said.
Junior Jack Berry went into the Buddy Program worried that his interactions with underclassmen would be awkward, but found himself staying the entire lunch period talking to his group of students formed by STUCO officers.
"It's very fun to be around new people and be able to talk to them," Berry said. "I was in a group of people who were funny, and was able to initiate conversation."
Senior Noelle Ramos also enjoyed passing on what she has learned over the past three years to freshmen.
"I was pretty clueless as a freshman," Ramos said. "I didn't even know you could change your classes, so I think being able to help out and talk to someone [at the Buddy Program] might give them the guidance they need to get a foothold into school and feel more secure."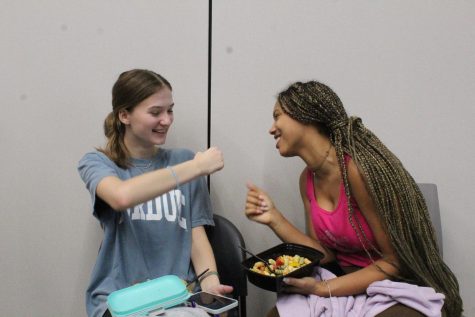 Ramos felt that upperclassmen are also able to gain from attending the Buddy Program, not only by meeting underclassmen but also by gaining gratification from helping others.
"It's pretty rewarding to partake in as an upperclassman," Ramos said. "It isn't something that an upperclassman should disregard just be
cause it's not aimed towards them. It's nice to see people from different backgrounds, and I feel more fulfilled when I volunteer."
While the Buddy Program was created for freshmen, Sadana also felt like she gained experience by organizing and spreading the word about the event in classrooms and on social media.
"I really enjoy putting together an event for the community," Sadana said. "I think that it's a really useful program, so being able to be part of that process and lead it was a really great experience."
Leave a Comment