[NEWS BRIEF] Jennifer Mathieu kicks off first Author Talk with inspiring advice for young writers
Published author and English teacher Jennifer Mathieu spoke to WRITE club members about her career and new book, "Bad Girls Never Say Die," at the year's first author talk.
In her presentation, Mathieu shared the process of how the stories in her head make it into a published book. She wanted young writers to realize that writing is a long process.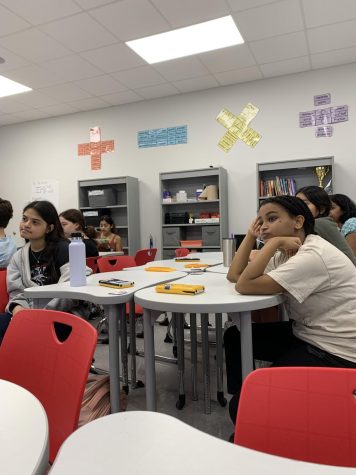 "A lot of kids see books on the shelves and they think that there is something magical about them," Mathieu said. "The truth is, writing is writing. It always is a process, no matter if it's an essay for school, or a book you're writing to completion. It's going to take time."
However, Mathieu thinks that the joy of writing cannot be found through a screen.
"My biggest piece of advice, and it would apply to anyone, even if they don't want to be a writer, is to put your phone away," Mathieu said. "If our heads are always in our phones, we never get bored. It's really, really good to be bored."
Mathieu's writing tips resonated with sophomore Saanvi Sunkavalli. Sunkavalli said that sometimes the intense writing process scares her away, but Mathieu helped take the pressure off.
"I like her advice that you should just write down whatever you want – even if you don't have any plot points," Sunkavalli said. "Don't be self-critical."
Information about how to become an author is hard to come by which is why Sunkavalli appreciates WRITE Club's Author Talks.
"A lot of people don't know that much about professional writers," Sunkavalli said. "They're very mysterious — they aren't like actors or celebrities."
Senior and WRITE Club president Bailey Sutton thinks Author Talks are crucial in encouraging young authors to pursue writing. She's continued this WRITE Club program because she wants to show aspiring writers that being an author is an achievable thing.
"I think a lot of people put authors on pedestals and think that they are these immortal creatures," Sutton said. "When people know the author, they can connect with them on a more personal level. It humanizes them."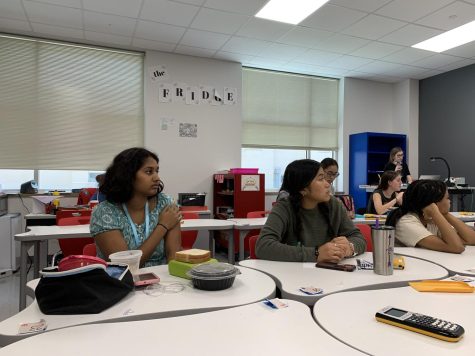 Even though Author Talks are important to foster young authors, Mathieu says that students shouldn't feel pressure to start their writing career right now.
"I always say, 'writers are not runway models,'" Mathieu said. "We can write as long as our brains still work and we have a way of transcribing our thought. There are people who haven't published until they are in their 50s or 60s. There's no rush, it's not a competition. Right now, young people should focus on creating worlds with words.
Leave a Comment