It all starts in the classroom: English teachers dedicate 'Go Purple Day' to education and action
The meaning of Domestic Violence Awareness bears deep significance for English teachers Morgan Graham-Chilsom and Jennifer Ho.
They generate their passion to educate their students about the realities of undetected abuse that plagues relationships and crumbles mental health.
"It breaks my heart to see these statistics in adolescents, and people aren't even aware of the signs of it happening," Ho said.
She counts her students in threes, knowing that one in three adolescents in the U.S. will fall victim to physical, emotional, psychological and/or verbal abuse from a dating partner by the time they reach 18, according to the National Domestic Violence Hotline.
Graham points out that 43 percent of dating violence cases occur on school grounds. When she realized Bellaire's campus never acknowledged domestic abuse, she sided with Ho to act.
"Some people see it and think nothing of it, or they think it's a joke, but it's not," Ho said. "It turns into something really ugly, and victims have to live with those memories for the rest of their lives."
Fueling their hunger to drive change, Ho and Graham recognized National Domestic Violence Awareness Month this October by encouraging students to wear purple on Oct. 20 for "Go Purple Day."
Graham donned purple from head to toe, and Ho from eyelash to shoelace.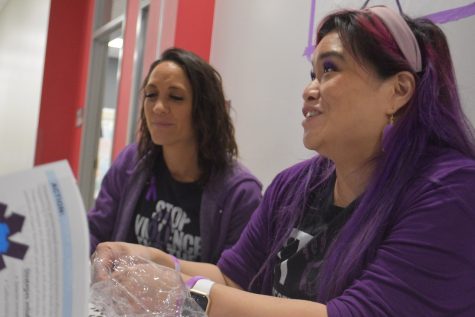 On Thursday, color spoke louder than words.
Setting up a table decorated with purple confetti on the second floor, the teachers spread out information flyers from the NRCDV, describing strategies on how to effectively apply awareness and action to evoke social change; brochures defined domestic abuse, bulleted facts and explained how young people can join the effort to help mitigate relationship abuse.
NRCDV recommends participating in awareness-building strategies, such as creating and reposting social media campaigns, volunteering in benefit runs/walks and wearing purple ribbons.
A few action-based strategies include bystander intervention, engaging men, boys and youth. Examples of partaking in collective action included helping to organize human rights demonstrations, lobbying for legislation and voting.
Teens ineligible to vote can access their local resources by phoning their state representatives or mayors to advocate for bills that, if passed, contribute to domestic violence reform.
Within their classrooms, the English teachers dedicated the day to National Domestic Violence Awareness Month activities so their students could better identify healthy characteristics in relationships, practice having open conversations and perceive hints that precurse dating abuse.
They revealed statistics of dating violence among teens, compared traits of a healthy versus toxic relationship and allowed for a constructive debate, called "For or Against", where the teachers read out scenarios and their students agreed or disagreed with said behaviors:
"Arguing is a normal part of every relationship. Sometimes you need to get into a screaming match in order to work things out."
"Jealousy in a relationship shows that someone really cares."
"If someone I am dating doesn't like my friend, I will stop seeing my friend."
"It is okay for a partner to tell you what you should and should not wear."
"If my close friend was in an unhealthy relationship, I think they would confide in me."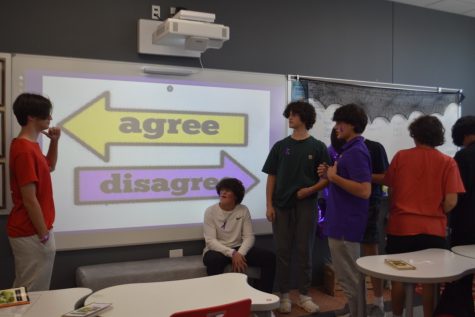 The instructors also provided life-saving tips, recommending that students receiving threatening texts from tumultuous partners should screenshot and email the evidence to their own inbox as proof of harassment to a trusted adult and/or the authorities.
At the table, the duo also distributed purple ribbons with gold safety pins, purple ribbon stickers and purple-white rubber wristbands from Amazon etched with words of encouragement, such as, 'hope,' 'strength,' 'faith' and 'courage.' Acquiring these traits motivates victims to persevere from their unhealthy situations at home.
Through a timeline of demonstrations, an unspoken consensus marketed purple as the official color to exhibit solidarity for domestic violence victims in October 1981 when the National Coalition Against Domestic Violence commemorated a "Day of Unity" where partakers recurrently donned lavender or purple.
The National Woman's Party, formed in 1913, propelled the women's suffrage movement to inspire the 1981 participants' wave of purple attire.  Beginning in 1919, NWP's leading suffragette Alice Paul wove stars on a purple, white and gold flag as the organization's emblem to symbolize purity, hope and loyalty, per England.
Along with Graham and Ho announcing "Go Purple Day" to their classes in hopes of a purple turnout, they partnered with the Human Trafficking Awareness Club to post news of the event on its Instagram @bhs.hta for greater audience outreach and increased student participation.
Freshman Lola Reynosa wore a lavender blouse with a purple ribbon pinned to her chest to demonstrate her solidarity for domestic abuse victims.
"It was my first time wearing purple for Oct. 20 and I will 100 percent do it every year now," Reynosa said. "I felt as though I was being a part of something big, and it makes me happy to let victims know that others will have their back and continue to show awareness."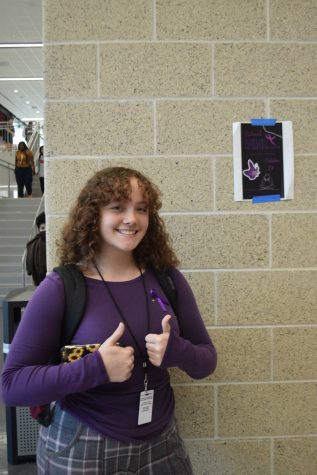 Senior Alina Guiterrez wore a dark purple sweatshirt to display her loyalty.
"I felt like I was giving a voice to people who don't have one," Gutierrez said.
Beyond school, people's senses in deciphering the warning signs has heightened, even through TV screens.
Grammy award-winner Taylor Swift gained frenzied traction across social media in December 2020 during a Jimmy Kimmel Live! virtual interview due to a misperception.
The singer-songwriter discussed her transition into her early 30s, her "Folklore" album release, fan theories, upcoming documentary and boyfriend when fans spotted the singer stretching her thumb across her upper palm and folding her remaining four fingers, emulating the Signal For Help hand gesture.
Rumors flew with viewers discerning the hand motion as a plea for help, but internet buzz subsided over time with no statements put forth by the singer or her team substantiating those claims.
Public reaction to Taylor's body language was keen with fans calling for swift action, but Ho suggested to not amend those types of situations so hastily and head on.
Ho offered advice, explaining that if you see anyone who is struggling, the victim likely doesn't want to acknowledge the trauma they are enduring. They won't leave until they are ready. But when they are ready, Ho said the best thing one can do is to be there for them, lend support and refrain from judgment.
"Victims stay in toxic relationships to prove to themselves that they are strong enough to withstand the pain because they feel like they failed," Ho said.
Ho and Graham hope their classes take away the severity and unpredictability of the horrors associated with domestic violence and how it ruptures people's health remaining in toxic ties.
"Domestic violence is real and it's taken lives before," Ho said.
If you or anyone you know suffers or has suffered from physical, emotional, mental and/or verbal abuse, chat, call or text to access experienced counselors through the NDVH.
If you have trouble discerning whether or not you suffer from a traumatic relationship, find out by taking these quizzes provided by Love is Respect, which offers specialized shortcuts for users to leave their site if in a hurry.
Leave a Comment