"The End of the Beginning": Why the Lil Nas X concert is the best one I've ever been to
Lil Nas X's "Long Live Montero" tour was the best concert I've ever been to. From the production genius, to the outfits, to the confetti, I don't think I'll ever experience anything like it again.
The first thing that stood out to me was how he incorporated his marketing creativity in a concert setting. As I waited anxiously in the general admission line, a music hall worker walked up to me and handed me a playbill.
Glorious images of a nude Lil Nas X as a butterfly immediately caught my eye; they were the first clue as to what I was in for.
Inside the gorgeously crafted playbill were QR codes to access Lil Nas X merch, a letter from Nas to the concertgoer, a guide to the three-act show, a spotlight on all the dancers and, best of all, a full outfit guide with designer details and witty quips from Lil Nas X himself. All this information was bathed in various pastel pinks, yellows, blues and purples with accents of butterflies.
I was happy to have such an interesting playbill to entertain myself with while I waited a full two hours for the show to start once I got into the pit. Most artists typically pipe in music to hype up the crowd before they actually begin their performance. Prior to Lil Nas's performance, every time a new song came on, everyone around me groaned because it meant waiting at least another three minutes.
Another way I kept myself busy in the pit was by people-watching.
The best place to people-watch is a Lil Nas X concert.
It seemed like every area of Houston was represented in that mass of people. I saw all different minority groups, women, men, dads, varying shades of gender and sexuality expression, and everyone's outfit slayed. I don't think I've ever seen so many men wearing harnesses in one place.
I was amazed at the scope of people that Lil Nas's music reached, and how almost everyone can find pieces they relate to and hope in his lyrics.
ACT I
A monstrous, neon chrysalis rolled onstage.
The lights lowered.
An Effie look-a-like appeared projected on the velvet red curtains. She spoke in a dreamy voice introducing the show, a story of how a young man finds himself through music.
The curtains rose and there stood Lil Nas X, in a glorious golden jumpsuit, abs out, before a celestial background.
"Panini" went so hard.
Lil Nas X is a surprisingly talented dancer, and he knows how to rile up a crowd. I screamed at the top of my lungs through the entire song and didn't stop screaming until the concert was over.
Each song introduced a new, intricate background.
"Tales of Dominica" and "Sun Goes Down" played above a hot pink, Sharpay-esque dressing room.
"Old Town Road" swirled before a nighttime city-scape, which perfectly mirrored the album cover for "7 EP." Before the song even started, Lil Nas X rode in on a fake horse designed by Coach. Why? I couldn't tell you. But the level of production just added to my adoration of the show.
The closing of the velvet curtains marked the end of Act I. The creepy lady came on again to announce the themes for Act II.
ACT II
My favorite song from the album is "Dead Right Now." I was ready to riot if he didn't put his all into that performance.
I was not disappointed.
The dancers around him wore cloaks with a shiny metal mask concealing their faces, and Nas had on the most gorgeous pants that Coach has ever designed. The choreography was unmatched, and the whole experience seemed too sacred to be real.
I could not control the shrieking that erupted from my lungs.
Out of all the backgrounds, I liked the one from "Don't Want It" best.
The background continued the pink theme of Act I, however, it was more extravagant than any others. The screens depicted a flowery and gaudy 18th-century Versailles dressing room, and Nas came out in a shimmery pink adaptation of a Louis XVI outfit.
Nas created so much beauty in his concert that to say the whole production was a work of art is an understatement.
To mark the beginning of his transformation from a closeted pop star to an LGBTQ+ icon, Nas included an intermission between "Don't Want It" and "That's What I Want."
The room got dark again as thousands of tweets, comments, and articles about Lil Nas X flooded the screen behind the stage. The overwhelming amount of commentary from opinions that all seem to contradict themselves perfectly represented the theme Nas explored in his album with songs like "One of Me" and "Call Me By Your Name." It shows the amount of pressure Lil Nas X feels in his role as an ambassador for the LGBTQ+ community. Every win celebrates a landmark triumph, and every loss invites homophobic backlash.
How Nas felt in the stage of his life when he considered the ramifications of coming out is what he captures in Act II.
ACT III
Act III was transcendent.
In the story of the show, this was the act where Lil Nas X shed his mask and became his true, fabulous self.
He introduced the act with a short film he wrote, starred and produced. The film was about a church. In the church, the pastor (played by Lil Nas X) vehemently preaches about sin and how gay people will have a special place in hell. A little boy sits in a pew surrounded by passionate churchgoers who yell their approval. The boy squeezes his hand over his ears and shuts his eyes tight, as the camera shakes and spins around his image.
Cut to the stage, designed as Satan's lair.  I felt immersed in the music video when I watched "Call Me By Your Name" live. The background, the choreography, Satan's throne. I was beyond myself. At that point, my voice had long since given out but I still screamed.
HE PLAYED AN UNRELEASED SONG. "Down Souf H**s" is the kind of song that forces you to dance. Your body just can't help it.
Lil Nas X created the song specifically to twerk to, so he invited eight lucky participants on stage to participate in a twerking contest while he sang. All the contestants were so good that he couldn't decide a winner. I don't think I've ever heard a crowd scream that loud.
"Industry Baby" was the best performance of the night.
The costumes and background mimicked the music video, and Lil Nas X put his all into the choreography. I was floored.
Dancers placed wings on Lil Nas X's back, symbolizing his full metamorphosis.
The End of the Beginning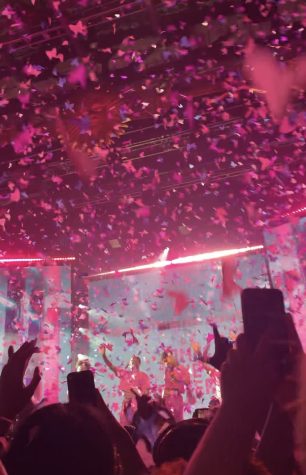 As Lil Nas X and his dancers took their final bow, butterfly confetti rained down onto the pit. The screams of the crowd lasted a full ten minutes after Lil Nas X exited the stage.
After the lights came back on, I stood still as people around me began to filter out of the venue.
I was in shock. In fact, I think I'm still processing that concert.
The amount of planning that Lil Nas X put into each background, costume, and short film so that all the elements of his show fit under the themes of his album and tell the story of his life is exceptional.
The complex themes of metamorphosis, religion, and identity that he expressed in subtle, creative ways had me analyzing every little detail I observed- right down to the butterfly confetti.
I've never been to a concert where the artist puts so much thought, time, energy and creativity into performing an album.
As I exited, the words "The End of the Beginning" hung above the stage in an electrifying statement.
This perfect end to my Lil Nas X concert experience only amplifies my anticipation of his next move.
Leave a Comment