Stage is set: Meet the newest addition to the theatre wing
November 3, 2021
Adrian Lopez probably wouldn't be a drama teacher if not for his love for theatre — and for the inequities he experienced as a high school student in public education.
In his junior year, Lopez recognized there were issues and there "continues to be a lot of issues" in the public school system and students suffer as a result. His awareness drove him to pursue education as a career during college. University of Texas at Austin, where Lopez earned his theatre certification K-12 in 2021, is where his plan to improve education — by teaching theatre — started.
While attending university, Lopez student-taught theatre at KIPP Obras Elementary in Austin, then moved to Pflugerville to work at Park Crest Middle School. After graduation, he applied to Bellaire to teach drama. In class, he admits he isn't the strictest teacher, but he knows his students know their expectations.
"He's laid back," senior Curstin Brown said. "He's chill to the point of understanding that his students have other assignments from other classes but he still expects us to complete the work he hands us and prioritize his class."
Lopez starts everyday off with a Do Now. The first minutes of class are his students looking at the whiteboard in the front of the room to see what class will look like that day.
"They know that they're either finding their assignment on the Hub, or they're bringing in something that I gave to them the day prior," Lopez said. "Recently, we have been doing some technical theatre work, so I've been showing them what scenic design is, what wardrobe design is."
Lopez teaches well over a combined one hundred students in all periods except second. Periods one, three and four are his Theatre I class. Specifically a foundational course, it focuses on the very introductory facets of the theatre world.
"We learn all of the basics, but I like to approach it like a human development class because we work on maintaining eye contact, we work on communicating, collaborating," Lopez said. "We do a lot more than just learn about the theatre."
Currently, Lopez's Theatre I classes are working on a group project: a theatrical adaptation of a children's story or TV show. The class is divided into groups of three and are assigned to a specific role in production: costume designing, directing, and playwriting. The playwright will write out their artistic vision; what they want audiences to get from their show and how their show differs from their original inspiration for "the children's play of their dreams."
Lopez's sixth period class is Intermediate Production, which is more tailored for freshmen who are new to the program that don't have enough experience to be in an advanced class or for students who can't fully commit to the course because of all of the hours that are required after school.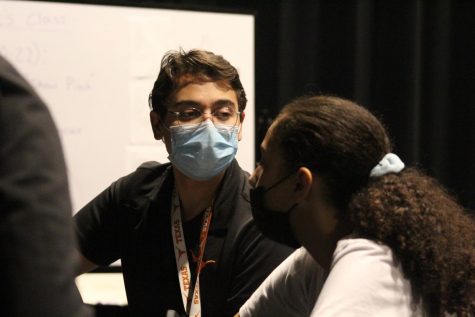 The Black Box Theatre is Lopez's classroom. It is highly customizable with rows of chairs surrounding empty space in the center. In Boeing Boeing, the black box was set in traverse, where the audience was seated on two sides of the stage and the middle section was gone, but black boxes can be set into proscenium where the audience is on one side of the stage. Also thrust, where there's three sides of seating. All efficient for virtually any set up for a play.
"That's the great thing about a black box," Lopez said. "You can make it into anything you want it to be really."
"I'm a morning person, but by the time I get to sixth and seventh period I get tired, but I find a new flame later on, and I'm able to rally through and we'll rehearse until about 6:45 starting in seventh period, so I got to keep the energy up," Lopez said. "I like it all day, but I'm a morning person so I feel most energetic."
One of his favorite plays is The Hobbit. The Hobbit, once a book series, is now a play adaptation by playwright Patricia Gray.
"It's fantastic, it's a lot of fun, if I had all the money in the world I would produce it and put 50 kids in there," Lopez said.
As for himself, Lopez has written and presented his own work, performing in an all-Latino parody of Star Wars, called Estar Guars, with the Latino Comedy Project in Austin.
A first-generation Cuban-American, Lopez likes plays that highlight Latino casts, hitting close to home. A Latin-based performance he's a fan of is In the Heights.
"The first time I saw it live, I cried and I took my whole family to see it because we're Cuban and it was pretty powerful to see it in person," Lopez said. "I never really been affected by a piece of art in that way. Only two things come to mind when I think of things that really emotionally impacted me and In the Heights is one of them. I love In the Heights but I avoided watching the movie because the play is so special to me and what if I see the movie and don't like it?"
Lopez said that he especially enjoyed the play because of its focus around gentrification and the spirit of a Latino community uniting to make ends meet to protect the Latin roots. Lopez said he has seen this first hand.
"I've seen neighborhoods I love completely transformed," Lopez said. "When I was in Austin, in a matter of years I saw Latino neighborhoods just completely change in demographic. You definitely see a lot of that in any city and you see it in Houston, too, but Houston is really multicultural and that's why I chose to come back here."
Not only did Houston's diversity attract Lopez back into the city to eventually choose Bellaire to work at, but his previous high school teacher Allison Underhill, who teaches Technical Theatre at Bellaire, would mentor him once again. He also sees a strong mentor and partner in Kayla Boffone, also a Theatre teacher. Boffone and Lopez co-teach seventh period's Advanced Intermediate class where she is the head director and him the assistant director.
"I love the staff here," Lopez said. "They've been very welcoming since day one and what's really impressed me about Bellaire is the feeling that I have full reign over my artistic choices with these students. I feel trusted with these students and I do appreciate that."
Lopez encourages all students to join his class because he thinks everyone would ultimately benefit. In Theatre I, Lopez said a lot of his students would admit that their social skills have improved since they joined theatre. Lopez said he sees his students engaging with their peers to produce performances in front of the class — something that they would have never been comfortable doing two months ago.
One of Theatre I's recent assignments was students creating a monologue about their lives. Students were given a day to write their monologues and perform it in front of their peers.
"During our monologue project, we'd be good audience members and take notes about what they've done and try to incorporate it into our presentations," freshman and first period student Weston Benner said. "[Mr. Lopez's teaching style is not super rigid and he can adapt if there are any problems."
Lopez aspires to become a principal in an elementary or middle school, requiring at least five years of teaching in a classroom before being promoted. But one step at a time, he said he is focused on maintaining strong relations with his students, hoping it will lead them to learning valuable material in his class and making better choices in the future.
"Ultimately I'm an educator first," Lopez said. "And I really care about the state of education in this country and in this state. I just want to help my students become good people with social skills and equip them with the tools that they'll need to succeed in whatever they choose. I know that not everybody will be an actor. And I approach this class from that perspective because not everybody wants to do that. But if we can develop the key 21st century skills that they need, then I did my job."