'It's the dumbest thing in the world'
After effects of destroyed bathrooms concern students, faculty
Newly painted walls smeared with pencil graffiti. Water faucets and soap dispensers missing. Spotless floors smeared with soap and soaked with water.
In the span of two months, Bellaire's bathrooms have been stripped bare. As part of a trend known as 'devious licks,' students have stolen objects ranging from soap dispensers to toilet seats.
As objects have gone missing, administrators have grown more and more concerned about the issue. After the situation got out of hand, Principal Michael McDonough brought up the matter in an announcement. Although the trend died down, the destroyed bathrooms have left lasting impressions on students and faculty.
"Honestly, it's the dumbest thing in the world," office clerk Alex Brown said.
Brown is not alone in his opinion: IT and AP Testing Coordinator Allen Scarrow said he is let down by social media's influence over students' exploits in the bathrooms.
"[I am] more disappointed about how it all started with TikTok, and just people wanting to destroy property," Scarrow said.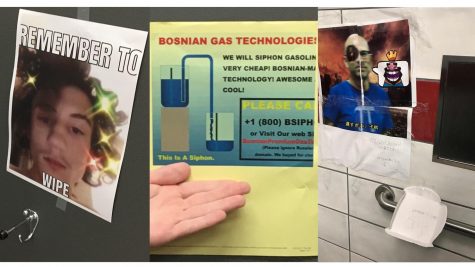 Students like sophomore Matthew Garay said he is disheartened by the vandalized bathrooms.
"What's going on with the bathrooms is kind of annoying," Garay said. "The soap dispensers are gone, and the floors are always wet."
Junior Miya Patel said the damages have occurred mostly in the boys' bathrooms and haven't affected the girls' bathrooms as much.
"The girls' bathrooms are always neat," Patel said. "And, all I've heard from the boys' bathrooms are that they smell, and there's stuff everywhere."
While the damages might not extend to every bathroom, they still concern administrators.
"It was getting out of hand from the very beginning," assistant principal Jesse Rivera said. "We don't want any kind of damage like that happening at all."
Rivera said that it's not only Bellaire where he's seen vandalism and theft in bathrooms.
"My wife works at another school, and my two young sons that are in elementary school, too, have said that they have these things going on at their school," Rivera said. "So it's not just an isolated thing with Bellaire."
In September, when the trend was at its peak, Rivera said that the administration had caught some students, and that last month's announcement from Mr. McDonough was just a reminder that there would be disciplinary action for students who are caught. But now, according to Rivera, the situation with the damaged bathrooms has improved with fewer instances of stolen items.
"A lot of soap dispensers and paper towel holders have been damaged," Rivera said. "People at some point attempted to try to get mirrors, but those are very heavy so they probably couldn't go through with that."
Even though the number of incidents has declined, the damage has only created further detriment to the janitorial staff, according to Rivera.
"Taking the soap dispensers only takes away from you guys being able to use it," Rivera said. "As a staff member, I can turn around and go to the staff bathroom just fine. So, it's only hurting you and putting unnecessary work on the custodial staff."
Marta Flores de Gomez, senior plant operator, agrees that the damage to the bathrooms only puts an extra strain on a short-handed janitorial staff.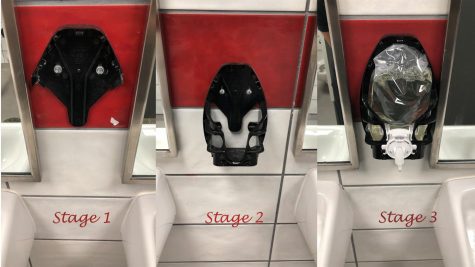 "We're doing little by little, replacing the broken dispensers," Flores said. "But students break them, and that's a problem because we have been shorthanded for two months, making it more work for us."
Flores said that although the faculty and staff understand the problem, solving it will take time and money.
"We will try [to replace the missing items] but there's a lot of stuff that's in short supply, so we don't have any extra ones just laying around. We have to get those from the district and then there's a cost so the school itself has to pay for the replacement," Rivera said.
Flores said that with an ongoing pandemic, bathrooms are more important than ever in keeping ourselves clean and safe.
"We need soap and paper towel dispensers [to wash our hands]," Flores said. "They're important for staying safe during the pandemic."
Flores said that she hopes students will focus on learning at school, rather than ruining the bathrooms.
"When I have the opportunity to talk to students, I tell them to study hard so that they won't have to work hard like me," Flores said. "And I would tell my kids and every kid at Bellaire: you come here to learn. This is the time to learn. You have to appreciate this time, and think of all that you're learning so that you can be great here at school and in your life."
Leave a Comment