Rookie vs veteran players: Athletes navigate high school sports
LACROSSE
Two years ago, senior Casey McClelland stepped out onto the lacrosse field for the first time, nervously holding her new stick, mouthguard and goggles, unaware of the meanings of the lines on the field.
Now she sees this field and these lines differently. McClelland is a member of Bellaire's varsity lacrosse team and teaches younger players the technicalities of the game.
"One thing I can see that I grew in is going from not even knowing the lines on the field and where to go to telling other people how to play," McClelland said. "You know that you've made really good progress when people are asking you for advice."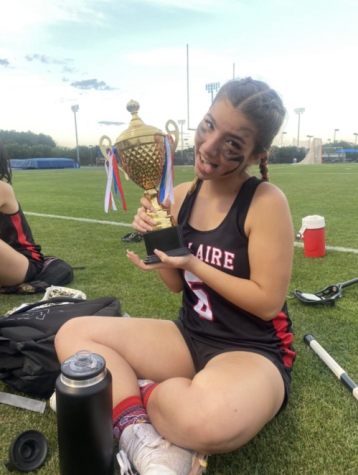 McClelland credits a lot of her progress to how frequently she practices. The first season she played lacrosse, she spent the majority of her winter break improving her skills.
"In winter break of 2020, I would go in my backyard – my backyard is tiny – and I would practice throwing and catching on a wall," McClelland said. "It was really not good at all, but it was something and it made me improve exponentially."
McClelland hosts weekly private lessons for middle school lacrosse players weekly at the Pershing field, using a soccer goal to help her students practice shots. She applies the same techniques she used to strengthen her abilities as a player to teach her students.
"I tell them to shoot on the corners of the fence just like you would at the corners of a goal, because I remember that's what I did on the fence in my backyard," McClelland said.
McClelland partly regrets finding her love for lacrosse in high school, knowing her time to play before college was limited. She sees that she spent valuable time playing catch-up as an underclassman.
"I think my progress and skill is pretty up there, but I just know, if I started earlier, I would have had a lot more time," McClelland said.
JV FOOTBALL 
Freshman Marshall Smith is in the same shoes now as McClelland was three years ago. Smith joined Bellaire's JV football team this fall after being recruited, having never played football before.
"In the offseason, I'm going to be in the weight room to get stronger and faster for next season," Smith said.
Smith noticed that similar to baseball (his primary sport), competition follows athletes to the offseason, which is why he anticipates the coming season so soon after the 2022 season ended.
Smith implements overlapping baseball skills into football.
"Baseball helped me with eye coordination to catch footballs," Smith said.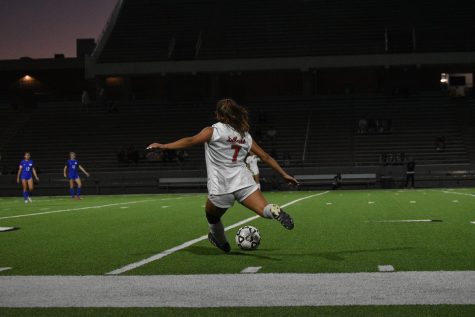 SOCCER 
Senior Brenda Castro, committed to Southern Nazarene University for soccer, started playing when she was 4.
"I have grown to really love it and be really passionate about it throughout all of my childhood," Castro said.
Growing into her sport from an early age gave Castro a head start in the soccer world. Finding a community and connections within a sport, along with having skill, were enough to land Castro on varsity as a freshman.
"Through time I gained a lot of new skills, and it was very fun to keep with something," Castro said. "It was such a stable thing in my life; soccer after school every single day just made my day better."
There were times in Castro's career when she came close to quitting but her pious commitment to soccer was part of a larger picture:The ultimate goal for Castro was to play in college.
"I always knew I wanted to play in college, so I just kind of reached out to a bunch of coaches, went to a lot of showcases and played for them, and I wrote a lot of emails," Castro said.
VOLLEYBALL 
Freshman Lucy Bannerman started high school on varsity volleyball, and also recognizes some of the advantages of starting a sport young.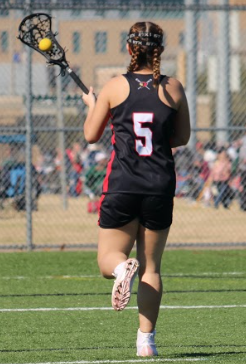 "It was easier to start young, I had more time to learn how to do it." Bannerman said. "Some people want to play in college, but if they started now they would have to get good really quickly. If you start young you have a lot of time to get good at the sport."
These advantages were also accompanied with the pressure put on someone so young.
"I was held to high expectations since I was little because I've been playing for so long," Castro said. "You have to be good to be playing this long. So there have been times when I wanted to quit, but I always pushed through because I knew the end goal was college."
View Comments (2)