[BREAKING] HISD relaxes its mask mandate March 1
In the wake of several states lifting the mask mandate across the U.S. and more in the coming days, HISD Superintendent Millard House II announced HISD's lift on the mask mandate on Feb. 28 across all of its facilities including schools and buses, effective March 1.
Previously, the CDC issued new mask guidelines on Feb. 25, loosening mask recommendations for 70% of Americans, as recent polls show a drop in cases. This recent regulation prompted government officials to relax mask mandates within school doors, regardless of vaccination status.
Bellaire will continue to offer masks to anyone who requests them when entering campus, but the sudden news leaves some students and staff with new fears, stipulations and hopes.
Superintendent House II delivered the message via email and conference call, stating the district's promise to maintain a safe-learning environment, despite lifting one of the mitigation measures administered at the start of the school year.
"HISD remains committed to providing safe, in-person learning for our students and staff– the kind of working environment that allows us to ensure that learning happens on a daily basis," Superintendent House II said.
Sophomore Catherine Bertram said lifting the mask mandate is a step in the wrong direction.
"I'm still going to wear my mask," Betram said. "I don't think it's safe enough not to wear one. It's to protect everybody else and not get sick."
Nurse Chanthini Thomas explains the necessity of a mask mandate inside schools.
"We all want things to be normal, but if everybody's not going to be working together in a synergistic effort and follow the mitigation techniques– maintaining social distance and staying home if you're sick– you're taking away one of our most critical techniques," Thomas said.
The news has left healthcare professionals in a precarious position, for which they were not adequately prepared for.
"There's nothing I can do," Thomas said. "I have nothing to fight back with."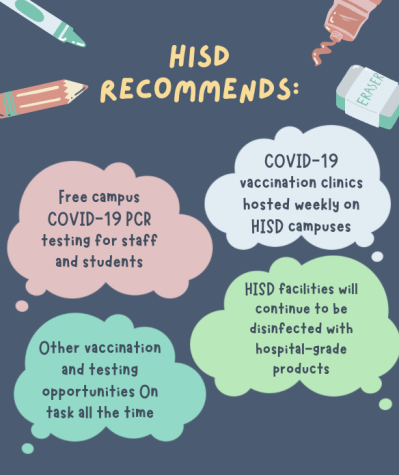 Clinic clerk and nursing assistant Alfaro-Miranda Shirley is scared about the removal of the mask mandate. She has an elderly mother and her young son and husband have asthma. For people with asthma, catching the virus can cause graver symptoms.
"Students being in an open area without masks is risky, but wearing masks can contain some of the spread when they cough or breath," Shirley said. "With SAT testing and spring break coming up, cases might spike again."
For some students, the mask lift brings a sense of relief and hope of a future of normal schooling.
"I feel that the world should have choices," junior Tyree Wilson said. "But during these times many people have different opinions, so it's hard to say what is right and what is wrong anymore."
In school districts bordering HISD such as Cypress-Fairbanks ISD, Katy ISD and Spring Branch ISD masks have been optional since the beginning of the school year. CFISD proposed a mask optional rule all year that Cypress Creek High School took advantage of.
"I had a few kids down with Omicron right after the winter break, but nothing major," Cypress Creek HS Journalism Adviser Mr. Woods said. "It blew through for a minute and has been pretty much gone since then. It was actually amazing to see herd immunity work in real life."
The pandemic hit Makayla Berroud, one of Mr. Woods' students, during her sophomore year. Coming back to school her senior year with relaxed COVID-19 protocols, Berroud felt safe being vaccinated and "boostered," but living with her dad who was considered high-risk caused Berroud to be cautious with who she was hanging around with.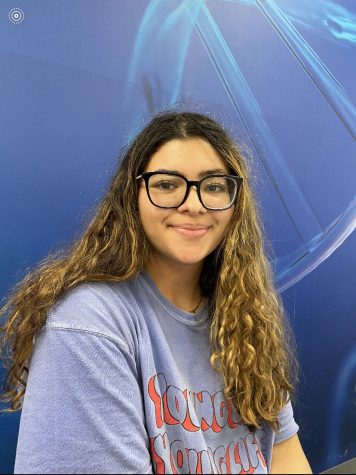 "I was wondering if people around me were vaccinated or if they do or don't wear masks, but it was refreshing to see everybody's faces that felt safe enough to take off their masks," Berroud said. "I felt safe enough to take off my mask this year, but I did social distance the first semester of school, but currently I feel really safe."
HISD promises to monitor COVID-19 trends and are dedicated to changing their COVID-19 protocol if there are upcoming outbreaks or spikes in cases.
Meanwhile, the district continues to recommend preventative measures to fight against COVID-19 transmission such as COVID-19 PCR testing and vaccination clinics hosted weekly across HISD campuses. Under HISD's health plan, face coverings are encouraged for its employees and students that want additional layered protection or are currently ill.
View Comments (2)