Q&A with senior Walter Truitt on sports and the COVID-19 pandemic
Ryan Lu , Managing Editor
September 30, 2020
How long have you been in track and field? In football?
"I have been playing football since 7th grade, at Lanier Middle School, and I have been running track since 8th grade. I have been on both teams for every year of high school."
Were you always on Varsity?
"I have been on varsity since freshman year for track and field, and I was the only freshman on the JV football team in 9th grade. In 10th grade, I was a starter on varsity."
Tell me about your achievements in these sports.
"During the summer of 2019, I went to the USATF Junior Olympics for 3 events: 110 hurdles, 400 hurdles, and triple-jump. Out of these events, I got 10th place in the 400 hurdles and 8th place in my age group's finals for the 110 hurdles, which made me a USATF All-American. For football, I have been consistently starting on Bellaire's varsity team. We're a 6A Texas high school football team that has made it to the state playoffs for multiple years." 
Do you intend to continue your athletic career in college? Or professionally?
"So far, I plan on running track and field in college. I'm not sure about going pro."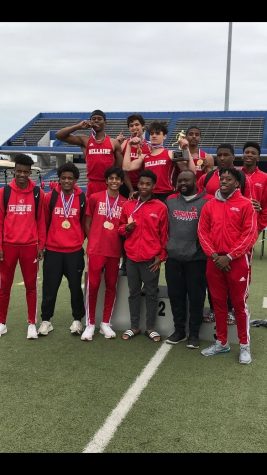 Have you received any offers for football or track and field ?
"I have been contacted by a lot of smaller schools for football, but for track, I have an offer from MIT and Carnegie Mellon, and I am also talking to the coach from Cornell. Track season is during the spring, so junior year was the season that colleges looked at for recruiting. Because my junior year track season was canceled, I am having to use my times from the Junior Olympics. I was only 16 then, and my times weren't as fast as they could be now."
How has the pandemic affected your practice schedule?
"During the summer, I would usually be having club track practice for 8 hours a week, but this year I had to train by myself. It was hard to keep the same practice regimen that I usually would have. Football practices started up last week and it's definitely different than usual. We have to wear masks whenever we are not doing a full-speed drill, and because of online learning and block scheduling, our practice time is cut in half every other day." 
How has the season changed?
"Well, track season was canceled last year after the HISD relays. Bellaire won the entire meet and I won 2 individual events and 1 relay, so the cancellation was disappointing because we were going into the elimination meets with a lot of momentum. The track schedule isn't clear yet. And this year, football is only going to have 7 regular-season games, and we are starting the games 5 weeks later than the games usually would be played. I believe playoffs are still happening, but it will be interesting playing football so late into the year." 
Are you concerned about these changes affecting colleges' decisions?
"I am concerned that colleges see the best times from peoples' results and don't read into it enough. I hope they see that I ran times as a 15 year old that some recruits don't run until they are in their junior year. Track is also a long process. You can't get good times overnight. It takes months of work to shave off even .25 seconds from a time. This concerns me because I feel as if I don't have enough time to get back into form in time for more schools to notice me."
What are your goals for the season? Have they changed?
"My goal for football season this year is to help my team reach the playoffs and to make it as far as possible. This has been my goal since I joined the team. Of course, the ultimate aim is to win the state championship, but I just want to take it one game at a time. For track, during my sophomore year, I made it past the District and Area meets to the Region III 6A meet, the meet before State. This season, if all goes to plan, my goal is to make it to the finals of the Region meet. Knowing that I am already the best hurdler in HISD and probably the area (district 18-6A and 17-6A), I can set my goals high."
Do you have any worries?
"I am very worried that the pandemic might worsen like it has in Spain when people fall into complacency. I really want to have a senior season for football and track and it would suck to have those taken away by the pandemic. I hope we can handle the virus as soon and safely as possible so that sports can resume without severe health risks."