McDonough's side of the story: a look into the former principal's removal from Bellaire
April 3, 2023
We sat down with Michael McDonough the day after he retired in his first official interview since his reassignment in May of 2022. He shared candid details about the 160 days leading up to the end of his 30-year career with HISD.
HISD's longest-standing, veteran principal had not expected visitors on one of the most hectic May days with STAAR, AP and IB exams all happening simultaneously.
Especially not visitors who would remove him from the school that he had served for almost a decade.
That morning, McDonough's supervisor informed him that he had to leave the Bellaire campus for an undetermined amount of time. He had no idea what was happening.
District administrators handling his case gave the principal ambiguous reasons for his removal, most of which had already been announced publicly: a policy may have been broken under his leadership and the matter would be investigated.
"I'm not going to go into specifics of it because I don't want to unintentionally imply that the matter has to do with employees, kids or anything," McDonough said.
McDonough was promptly assigned to an HISD office near the George Bush Intercontinental Airport, nearly an hour away from Bellaire, where he was required to check in every day.
"It was hard," McDonough said. "I didn't know why it had to be that way. I wish someone had checked in with me even just every few weeks."
The transition from one of the largest high schools in the district to a quiet HISD office left McDonough feeling "lonely."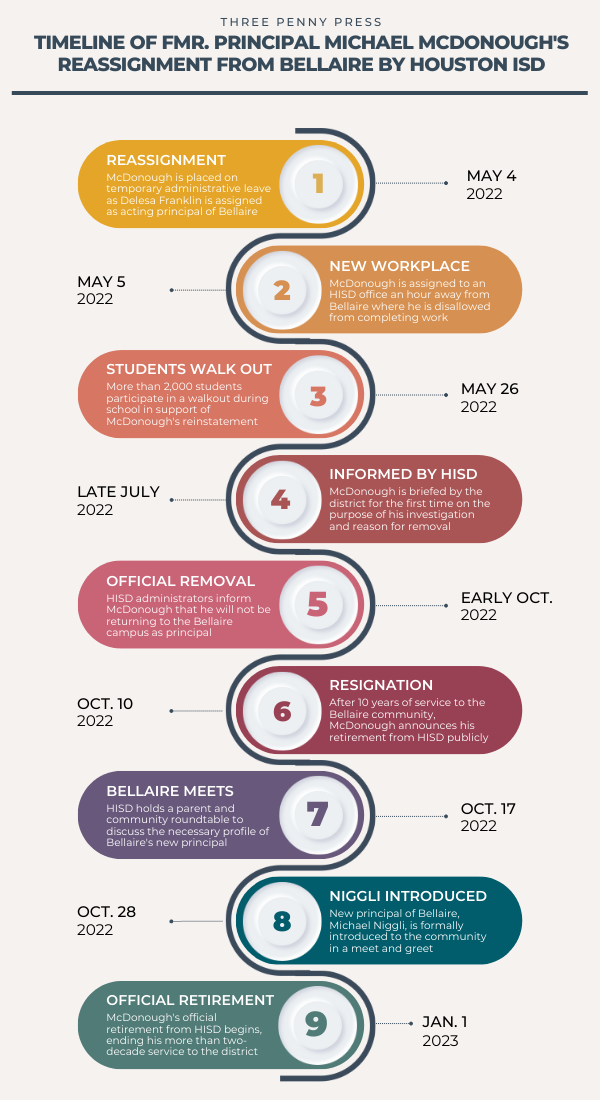 "I was surprised I had not even been given the courtesy of being told, 'this is what we're looking into,'" McDonough said. "Instead, all I was told was 'we think something may have happened.' None of the problems had been addressed with me at all beforehand."
Later that month, over 2,000 students participated in a walkout in reaction to HISD's lack of transparency surrounding his removal.
"The walkout was mind blowing," McDonough said. "Just the idea that anybody wanted to do something like that for me was so heartwarming. I honestly would have loved to be there, but my dad, my wife and my sister were all there for me. It was incredible."
When the investigation team interviewed McDonough in late July, two months after his removal, it was the first time he was afforded an indication of what the investigation was about.
"There were two things being investigated," McDonough said. "One was about a policy that was easily correctable if they had just told us beforehand. I don't know why they needed to take five months to investigate it."
The other issue was a disagreement about some of the day-to-day policies unique to Bellaire.
"I don't agree with their assessment," McDonough said. "I think if they spoke with [the] kids about how they feel: do they feel safe, do they feel respected, those kinds of things, I think they would have reached a different conclusion."
McDonough said a majority of the rumors circulating his investigation were untrue and that neither the bullying investigation in early April nor the baseball inquiry in March played any role in his removal.
Before McDonough's reassignment in May, there had also been controversy surrounding the superintendent's new budget proposal.
"[Under the new budget], Bellaire would have lost around 30 adults on campus," McDonough said. "Before the budget was released, I had gone through all of my channels and given feedback that we needed to tweak the budget, but obviously it didn't have a big enough impact."
Once the budget was made public, McDonough sent out a school-wide email detailing what it would mean for Bellaire including "an overall cut of just under $1.4 million."
"I don't think sending that email was loved by people outside of the building or up at the district level," McDonough said. "It was not my intent to have that be an embarrassment or distraction. It was in response to a decision they made, and it was consistent with what I think was important for our community to know. I don't regret it. However, the budget was not part of any investigation conversation either."
McDonough clarified that the investigation did not pertain to embezzlement, drugs or physical/sexual abuse.
"I wasn't a threat to anyone," McDonough said. "I honestly think the investigation could have continued even with me on campus which sometimes happens with HISD employees."
Although McDonough said he understands that the district had to keep much of the information surrounding the investigation under wraps, he said one of the biggest ways HISD could have been more transparent was to be considerate of the time it took to arrive at a conclusion.
"It seemed like they took lots of time off in between interviews and they hired an outside firm to do the investigation which is not typical for HISD. Usually investigations are handled internally," McDonough said. "But if you're dealing with people who don't work in a district, it can take a lot longer, I would imagine, and cost a lot more."
In October, five months after McDonough was removed, HISD officially told him he wouldn't be going back to Bellaire.
According to the HISD School Board Meeting Minutes, the board approved "the resignation and full and final release agreement with Michael McDonough" on Oct. 13.
The HISD communications office did not provide a comment at the time of publication.
"I didn't even care if they were offering me another job," McDonough said. "All that I heard was that I wasn't going back to Bellaire so nothing else really mattered."
At this point, McDonough was already eligible for retirement benefits and decided that it was best for the management of the school if he stepped down.
"In the second act of Hamilton, there's the song "One Last Time," and it's about when George Washington is stepping down from the presidency," McDonough said. "As I heard that song more and more, I thought about how courageous he was by deciding that 'I'm gonna step away so the country can learn to keep going.' And I'm not equating myself with George Washington at all, but there was also a part of me that by the time we reached October, realized Bellaire needs a [new] principal so that the work can continue and people can begin to have closure."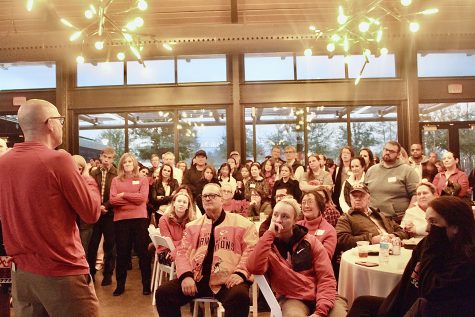 McDonough said he doesn't want to jump right back into a full-time position, so, for now, he will be doing some consulting work for the University of Houston in their education department.
"Leading the school for 10 years takes a toll fatigue-wise, so I've definitely been trying to relax a little," McDonough said.
With the time off, McDonough has reminisced on his initiatives during his decade as the principal of Bellaire High School.
"The thing I'm most proud of is Cardinal Kickoff. In 2013, when we started it, it was called something like 'prospective student open house' or some other weird, weak name," McDonough said. "The whole idea for me was, 'we're going to open our doors and show you everything we're proud of.' I'm really jealous because 2023 was the first year it was on campus in the new building."
He's especially pleased with how the school and community handled the COVID-19 schedule.
"We tried to do something different because expecting kids to sit and stare at a screen for an hour and a half is just not good," McDonough said. "So we made a creative schedule and even though it wasn't perfect, I'm happy we did it."
His biggest project, though, was the new building.
"I started at Bellaire in 2012, the same year as the bond election, so there's not a day that the bond wasn't part of what I did every day," McDonough said. "I had to talk about it for a few months, then it got passed, and then it was the actual construction."
Although he worked on it for 10 years, McDonough still hasn't seen the completed building.
"I would have loved to see 'Grease,'" McDonough said. "I technically could have gone if I wanted to, but I'm honestly scared. I just don't want to make a scene. I've never been nervous before about being in front of the Bellaire community. I can stand up at Cardinal Camp. I can stand up and talk in front of 7,000 people at graduation. But it's just different at this point. I took for granted seeing [students] every day, and then being put into isolation for so long. It's hard and weird. I'm coming out the other side now, but it can still be hard."
McDonough said some of his favorite memories were homecoming week, prom and going to club meetings.
"It would be one of those days where the Dessert Club is meeting, for example, and I would hit like five or six different clubs each for just a few minutes," McDonough said. "Those days are always highlights. The thing I loved about Cardinal Hour was that it can be whatever the kid needs that day. Maybe you're running into tutorials or you're going to three club meetings or maybe it's a day where you're just sitting with friends trying to catch your breath."
McDonough said Cardinal Hour was special to him because it was unique to Bellaire.
"Seeing kids find their place and start to connect with their people was my favorite," McDonough said. "Honestly, anytime I got to be around the kids, those are the best memories."