'I wish lacrosse season never ended, especially with this team'
Women's lacrosse season recap, end of year celebration
The varsity women's lacrosse team played their first playoff game on April 27 against Gulf Coast. The game marked the first time the team had made it to the playoffs in over four years. 
"We didn't even expect to make it to playoffs," senior defender Katie Pettigrew said. "We played well as a team and fought hard until the end."
The game resulted in a heartbreaking 8-7 loss. High hopes and intense emotions made the loss a hard one. However, the team recognized their accomplishments this season.
"I think we did our best, and considering the COVID restrictions we did very well," senior defender Jordan White said. "We even exceeded our own expectations by going to playoffs. I am proud of our team."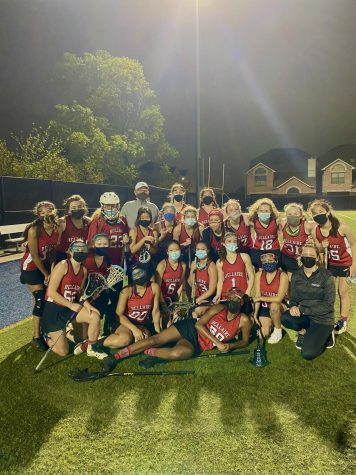 The season started off with a setback in the practice schedule. Due to HISD and COVID-19 restrictions, the team couldn't get together to practice until late October, three months later than when the first practice is usually held. The threat of not having a season was the motivation for many players.
"Being stuck in the house during quarantine was tough," Pettigrew said. "I couldn't wait to start lacrosse. I was excited to finally start playing again."
Practices and games were modified for COVID-19. Masks were required at all times during practices and at most games, a small price to pay for the eager players. Especially the seniors.
"As a senior, having a season was really important to me," senior attacker Maya Anderson said. "It was the last year that I could play with all of the girls that I've been playing with for the past four years."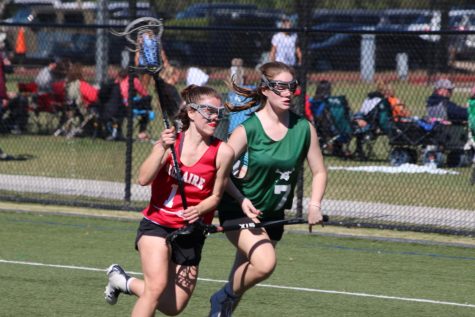 The women's lacrosse team ended their season with a final record of four wins and four losses. Their hard work this year provided cause for celebration. 
On May 5, senior Hailee Hernandez and junior Abigail Goldenberg, the president and vice president, respectively, hosted the girl's lacrosse banquet. 
"Everyone deserves a celebration after such an unprecedented season," Goldenberg said. "I had a really fun time planning it with Hailee." 
The girls started off the celebration with some friendly competition.
"Everyone on the team really loves the sport, so we wanted to make sure we incorporated it into the banquet," Hernandez said. "Our banquets pre-COVID were super fancy and always at expensive restaurants. It was nice to do something more chill and casual. We wore our jerseys and had a shooting competition, as well as quick scrimmages."
After the drills, the girls sat down and ate sandwiches while listening to speeches girls had for the senior players and coaches. 
"It was so nice to hear what everyone had to say about our seniors," Hernandez said. "I personally loved the speech about me and I'm sure the other seniors loved theirs too."
The girls honored their coaches as well after a long, hard season. They handed out flowers and thanked them for all their hard work. 
"Our coaches really made a big impact on our team this year," Hernandez said. "With COVID, our coaches really adapted and helped us have a full season while also feeling safe." 
The banquet/picnic at the girl's lacrosse practice field was a "great way to end the year," according to Goldenberg. 
"We are really going to miss our seniors and our team won't be the same without them," Goldenberg said. "I loved planning a celebration not only for our whole team, but especially for them."
Bellaire Women's Lacrosse had an unexpected season, but one they celebrated. 
"I wish lacrosse season never ended," Hernandez said. "Especially with this team."