New principal input meeting reveals community concerns
When the first question appeared on the wall-size projector screen in big, black, bold letters, chatter ceased. Silence ensued.
"What qualities, skills or characteristics do you think are important for the next principal to possess?"
In the dim auditorium, posters rose one by one from an audience of roughly 300 seated students, parents and teachers.
"We want McDonough back."
"HISD, what are you doing?"
"Bring our principal back."
Applause rippled across the auditorium as more than 10 of these posters populated the audience.
Since Principal Michael McDonough announced his retirement on Oct. 10, the Bellaire community has been restless for answers about his replacement and school policies moving forward.
Hosted by acting principal Dr. Delesa Franklin, the primary purpose of the community meeting on the evening of Oct. 17 was to seek input from the Bellaire community regarding the selection of a new principal by hosting an open forum for questions and concerns.
"It was just people sharing their opinions, and that's what we want people to do," Franklin said. "We wanted people to be vulnerable. We wanted people to speak their minds, be passionate and have a place where they felt safe."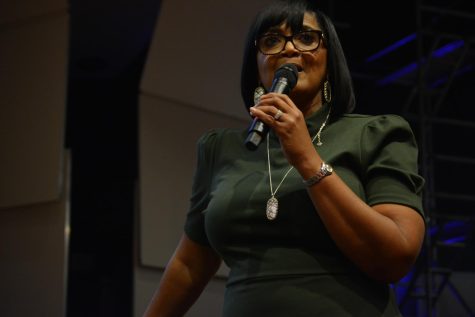 During the meeting, Franklin briefly discussed the principal selection process, outlining the characteristics, skills, behaviors and experience requirements candidates must meet. Franklin said a community interview panel will consist of two teachers, two parents, three members of the Shared Decision Making Committee, an advisory branch of HISD that assists the principal.
While students are not included in the interview committee, Franklin said the community meeting allowed them to participate in the selection process.
Four questions
Frankin asked the audience four questions to provide the district with feedback as they select a new principal.
In response to the first question, "What traits should the next principal have?", audience members raised handmade signs urging McDonough's return. There were few smiles; most donned a serious mask. A few whoops made their way to the front, and the deafening clapping gradually slowed as Franklin held up a hand to calm the audience.
People demanded for McDonough's reinstatement or a new principal of equal caliber, someone who was "diligent," "uplifting" and "inspiring" as McDonough.
"Mr. McDonough has fought every step of the way," Bellaire graduate and advisory committee member of six years Swati Narayan said. "The fear in students, the conversations around safety, those things did not exist when we had a strong principal."
The next question asked for the "procedures, programs or other school areas" the new principal should keep. Answers primarily concerned characteristics unique to Bellaire including Cardinal Hour, diversity and freedom of press.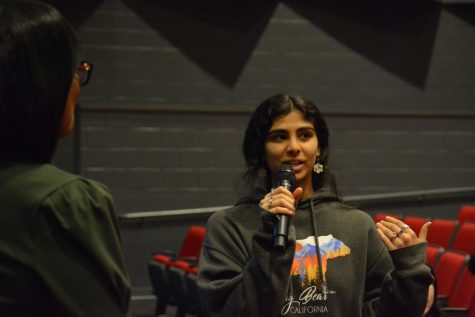 Senior Ria Nanjundan, a yearbook staff member, spoke about the possibility of student censorship under new leadership. She said McDonough supported freedom of press.
"We've won awards for freedom of press, so Bellaire is very unique in that way, unlike a lot of schools in Texas," Nanjundan said. "If the new principal wants to work in a different way when it comes to freedom of press, then we have to be ready for that conversation. It would be something we would fight back against as much as we can."
Parents bombarded the third prompt: "What are the important issues or concerns facing the school?" with concerns over safety. Students and parents brought up the Sept. 27 lockdown.
One parent, adamant about the lack of safety at Bellaire, questioned a cluster of students in front of her about whether they felt safe going to school. Junior Michael Goldman was one of the first students to shake his head.
"We are currently in a bad state for trans kids," Goldman said. "Mr. McDonough went out of his way to make sure that everyone felt safe in their own body and their own skin, including changing people's names in the system. One out of five trans people have attempted suicide in the past year, so the fact that he was able to make sure that people could live comfortably is something that helped those numbers go down."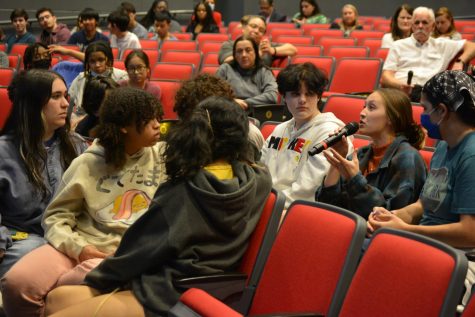 The final discussion of the evening asked for community values the new principal should know. Parents and students expressed their worries about the communication barriers with the administration.
"[The administration] wants Bellaire to work like every other school," Judy Long, parent of four Bellaire graduates over a span of 20 years, said. "Bellaire is not like every other school. It never will be no matter what they try to do to us."
Closing thoughts
Following the meeting in an interview with Franklin, she reiterated that while audience members directed their frustrations with HISD at her, she understood it was "not an attack on Delesa Franklin."
Dean of Instruction Debbie Campbell said teachers are required to comply with HISD regulations and what the administration wants.
"When they tell us we have to do something or vet something a certain way, we don't have any choice," Campbell said. "I can't break district policy. It's part of my contract."
People entered the auditorium with posters ready to protest how "HISD sucks", but Goldman said the meeting gave the community a chance to speak out.
"You try to put our voices down, but everyone deserves to have a voice, and everyone deserves to be heard," Goldman said. "If you put us down, we're just going to speak up 10 times louder."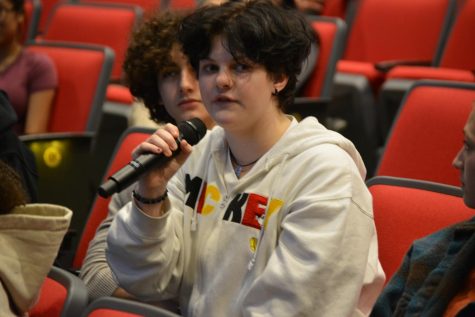 Leave a Comment