'I could never replace Mr. McDonough. I'm not trying to.'
Dr. Delesa Franklin fills role of principal amidst Mr. McDonough's retirement
She leaves her door open for students to come in as they please, welcoming them with an offer of a snack and coffee. When she's not in a meeting, she's warmly conversing with her students. They know that her office is a place where they can feel loved.
"It was just like I was their mom," acting principal Delesa Franklin said. "It was a family atmosphere. They felt comfortable."
Twelve years ago, Franklin founded the HISD's first all-girls STEM magnet school in Houston: the Young Women's College Preparatory Academy. She spent her seven years there creating an environment where students could be excited to come to school.
"I want people to have a good high school experience," Franklin said. "I believe that school should be made fun and not punitive. I'm so passionate about inspiring young women, and I get so emotional about helping all young people be successful. I love leadership and I love students. I love everything, everything that's positive. I love people."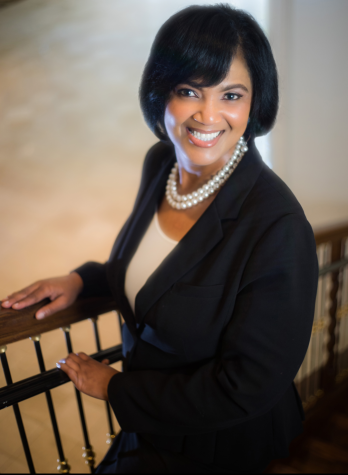 Franklin said her passion for helping others stemmed from her childhood and inspired her to pursue a career in education.
"My parents were my first teachers," Franklin said. "I've always admired educators and what they did for students to be successful. I used to tutor kids in my neighborhood. At that point, I decided that when I graduated high school, I wanted to do teaching. So, I followed my heart and majored in education."
After her tenure as the principal of Young Women's College Preparatory Academy, Franklin became a School Support Officer for HISD. In her position, she supported eight schools — including Lamar, Heights and Bellaire High Schools. Now, as acting principal since May 2022, Franklin said she works to ensure that Bellaire continues to operate smoothly.
"I had some familiarity with Bellaire, but not as detailed as with the work that I am doing now," Franklin said. "There are a lot of good systems here that we need to build on to ensure that every single student is successful. That is my goal."
Franklin is especially emphatic about prioritizing the safety of students and staff and has been making sure that all the technology in the new building — including the doors, cameras and intercom— is up to standard.
"The only thing I wanted was to make sure that, when we went into the new building, we were safe," Franklin said. "The day that we were supposed to have the first protest that students organized, Uvalde happened, and it was raining that day. I'll never forget it. Bellaire's a huge campus with over 3,100 kids, and my biggest concern for this year is safety: making sure that all faculty and staff and students wear their ID at all times and that students are not walking off campus all day long. I have to protect my students and teachers."
Franklin enjoys her interactions with students and staff and uses her love for students as a way to navigate tensions surrounding former Principal Michael McDonough's reassignment.
"I get up and I'm so excited about coming here to Bellaire," Franklin said. "The students are very nice and the teachers and staff are amazing. People did not know me last year so people were like 'Who's this lady?' But now people are coming up to me and I'm going up to them. I like being out there. I don't know if being of service is a love language, but I like helping and giving back. This is a great place to work, and this is my heart right now."
World Geography teacher Juanita Camarillo said she appreciates Franklin's approachability.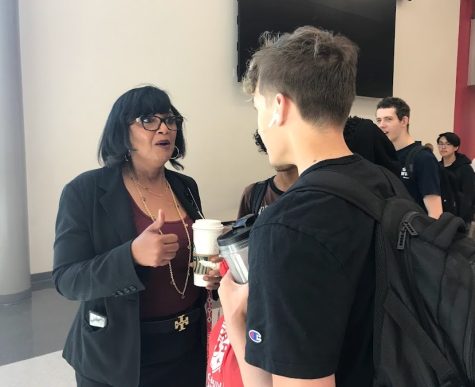 "One day, I was trying to get somebody to come outside my room and clear the hallway because we had boisterous students out there," Camarillo said. "I texted her because I was exasperated and I didn't expect her to respond, but she came. I appreciated that."
Junior Alen Covic was surprised when Franklin stopped in the middle of the hallway to answer some of his questions.
"I think she was busy," Covic said. "She was going somewhere, and she took time out of her day to talk to me about my issue. She told me to email her and basically told me what to say, which is really nice. I had no idea what to do, and she's the only one who really listened."
Franklin's favorite part of Bellaire is her daily conversations with students and teachers. When she isn't in a rush, she tries to make new connections every day.
"My first love for Bellaire is the students," Franklin said. "You guys are so nice. You have no idea. And I love being out there. I love talking to the students, just seeing how I can help. I will always walk a student to where they can get support."
Associate Principal Cilya Frank admires how Franklin handled the transition from SSO to acting principal and believes that Bellaire has grown stronger under her leadership.
"I've learned a lot [from her] on how to deal with difficult situations with grace," Frank said. "If you're going to be a leader, you have to uphold a standard. You can't get upset when people are cussing or yelling at you because it's not personal. She's always willing to listen. And she always is willing to ask questions to figure out why we do the things we do."
While the process begins to select a new principal, Franklin hopes to continue to work with students to create a better and more comfortable learning environment by making herself open to anyone who may need her help.
"I hope [students] know that I do have their best interests at heart and that I want every student to succeed," Franklin said. "I'm here to make it easy. If there's something that needs to be done, I'm here. I could never replace Mr. McDonough. I'm not trying to. But I can definitely be here to support [students] through this journey."
View Comments (2)